Tascam DP-008EX 8 Track Digital Pocketstudio
SKU: DP-008EX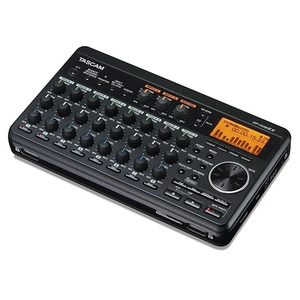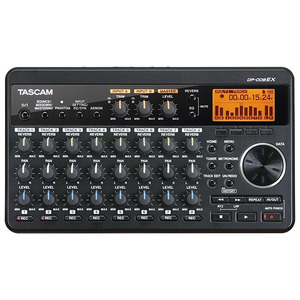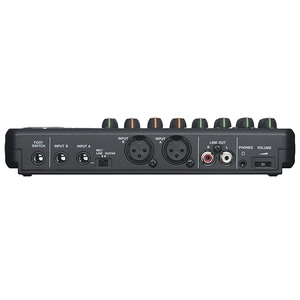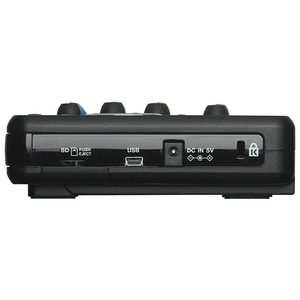 ---
The Digital PocketStudio DP-008EX is battery-operable multi-track recorder.
It's easy to carry around, perfect as a song-writer's external-use music sketchpad.
Recording:
Recording is achievable in just two short steps after turning the device on. A high quality (16bit/44.1kHz) condenser microphone is already built-in, so there is no need for an external mic. However, should you desire a pristine recording on the go the DP-008EX features 2 XLR mic/line inputs. The DP-008EX also caters for guitarists featuring two inputs with 1/4" jacks.
The DP-008EX can supply phantom power for condenser microphones (Notice: Operating time becomes shorter when used with phantom power supply). A dedicated stereo master track is also available.
Effects:
The DP-008EX is designed with insert effects for all input channels. Insert effects include EQ, compressor, de-esser and exciter. For Vocal recording, you can use the EQ to boost your desired frequency range and compress your tracks to normalize your song.
Demo songs need the same high-quality as final masters. The DP-008EX has adjustable 2-band shelving EQ for each track. The Hi-range EQ can be adjusted from 1.7kHz to 18kHz, and the Low-range EQ from 32Hz to 1.6kHz.
The DP-008EX has six different types of reverb to help find the ideal space for your song. It's simple to send to the reverb with dedicated control knobs for each track. Reverb effects include: Hall1/2, Room, Studio, Plate1/2. Reverb time and master level can both be adjusted.
Adding the DP-006 and DP-008EX into your production system will increase the scope of your music production infinitely. The music sketchpad that can easily accumulate ideas will capture that melody as it pops into your head, with a high audio quality, further enhancing your music production.
For more information on the Tascam DP008EX, please visit the manufacturer's website.
8 mono tracks

CD-quality recording (16bit/44.1kHz)

2 tracks simultaneous recording/ eight tracks simultaneous playback

Dedicated stereo master track available

Record to SD/SDHC card (Up to 32GB)

2 Built-in omni-directional condenser microphones

2 TS 1/4" or XLR mic/line inputs

Includes a fully functioning chromatic tuner and a metronome

INPUT A can connect high-impedance instrument directly

Phantom power supply

Independent LEVEL/PAN/Reverb SEND knobs for each track

Two RCA unbalanced line inputs

Headphone output

Insert effects for input channels (2-band shelving EQ, compressor, exciter, de-esser)

Mastering effects (2-band shelving EQ, multi-band compressor, normalize)

On-board chromatic tuner & metronome

High-speed data transfer by USB2.0 connection

File import/export by Wav format (mono/stereo)

Includes 2GB SD card
Be The First To Review This Product!
Help other Musiclab users shop smarter by writing reviews for products you have purchased.