Tascam Portacapture X6 32bit-float Portable Audio Recorder
SKU: PORTACAPTUREX6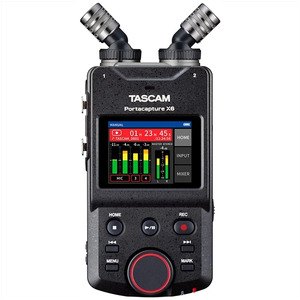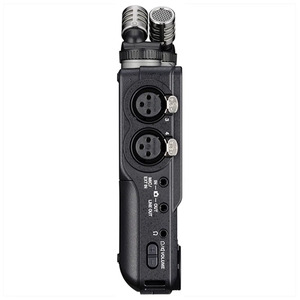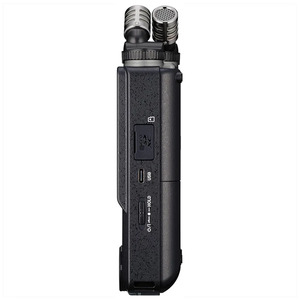 ---
New generation high-res Multi-track Handheld Recorder
Never miss a moment. Capture audio anywhere with the Portacapture X6. The intuitive app-like operations on its large color screen make it easy to record or sweeten up your audio in post. Record using the X6's dual built-in microphones or plug in your own mics to its 2 XLR inputs. The recording quality on the Portacapture X6 will be your secret weapon. Its 96 kHz/32-bit float recording technology means that you can capture audio softer or louder than ideal, assuring that you will never miss that moment.
App-like Operation:
Quickly access your settings and adjustments on the Portacapture X6's large (2.4-inch) color touchscreen. With the easy-to-navigate interface and helpful tools, you are just a few taps from the perfect setting for your needs. Use the Launcher to select from podcast, music, interviews, field recording and 6-track multi-track recording. Start fast, start right and get exactly what you need.
Audio For Video Production:
When shooting a video, you want to be able to focus on your video production and not worry about your audio. The Portacapture X6 was built with video production in mind. The workflow, presets and user-saved settings save you countless steps. The X6 has your back with its 96 kHz/32-bit float recording technology. Not only does this mean you will have the highest quality audio, but you will have a dynamic range that allows you to overcome those less-than-ideal realities that can often occur on a shoot. The X6 even gives you a time-code sync option* via Bluetooth® (with optional AK-BT1) allowing you to align your audio with your video, even when you have no audio on your camera. Upgrade your audio and reduce your worries with your own Portacapture X6.
Capture Your Way:
The Portacapture X6 is ready to record with a few quick taps. The internal high-quality stereo microphones can instantly rotate from A-B to a true X-Y mic pattern to allow for dialog or spatial music recording.
Have your own mics? Use those thanks to the two included XLR inputs or line level inputs. The mic preamplifiers are TASCAM HDDA (High Definition Discrete Architecture) – providing ultra-low noise and clean transparent audio based on over 50 years of TASCAM know-how.
Capture Every Bit:
It would be great if every time you need to capture audio, everything is perfect. Not too loud, not too soft. Of course that is not the reality for most of us. Sometimes the voice or sound that you need to capture will be really soft and in other cases it is blasting. Even in these extremes, you are expected to capture the sound and deliver well- finished audio. The 32-bit float point recording technology in the Portacapture X6 gives you a much lower floor and higher ceiling to achieve audio success. You could use another audio recorder and hope not to need this best-in-class recording technology, but should you?
Buy your Portacapture X6 online at the best price from your Tascam experts in Brisbane, Musiclab.
For more information on the Tascam Portacapture X6, please visit the manufacturer's website.
Portacapture X6 Features:
Enjoy intuitive app-like controls on the X6, all using the large 2.4-inch touchscreen. Easy-to-use recording, pre-production and postproduction capabilities are just a touch away.

Capture using up to 96 kHz, 32-bit float recording

Record 6 tracks (4 track + 2 mix) simultaneously

Easy-to-use recording pre-sets: Select from music, podcast, interviews, field recording and 6-track multi-track for the ideal recording setup for your needs.

2 XLR inputs and dual built-in mics with switchable AB/true-XY patterns

The 2 XLR input terminals are compatible with phantom power (24V/48V) to support recordings with multiple mic/line inputs

Undistorted recording processing enables safe recording without lowering the S/N ratio with 32-bit float processing

Equipped with a 6-in/2-out USB audio interface function

Wireless remote control from smartphones/tablets is possible with the optional AK-BT1 Bluetooth® adapter (sold separately). Timecode sync is also possible via Bluetooth® (*Timecode sync will be supported from V1.10 firmware update)
Be The First To Review This Product!
Help other Musiclab users shop smarter by writing reviews for products you have purchased.