Yamaha TF3 24 Channel Digital Mixer
SKU: TF3MIXER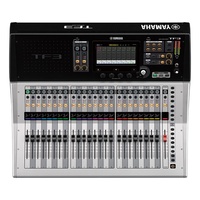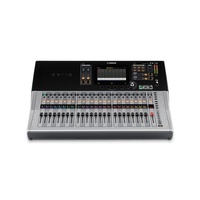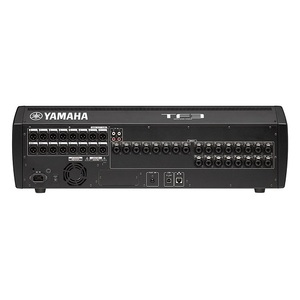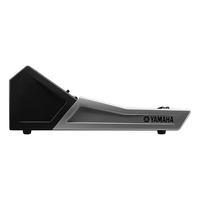 ---
Smooth, Natural Control Flow
Yamaha digital consoles have always been designed with input from leading engineers worldwide
to ensure that the most efficient, intuitive operation is achieved. The highly regarded Selected Channel
and Centralogic™ interfaces attest to the success of that approach.
The TF3 combines Yamaha know-how with new input from the field and the latest touch-screen technology to deliver an evolved experience in console operation. Smooth setup and operation, practical presets and scenes, refined design,
and software applications that integrate seamlessly with the entire system: these elements comprise
TouchFlow Operation, a new concept in console interfaces that offers unprecedented comfort and convenience in
small consoles, for a wide range of users and applications.

Intuitive User Interface Optimized for Touch Panel Operation
In developing the TF3 and the TF series Yamaha engineers built from their existing base of acclaimed high-end mixer interfaces, adding intuitive control in an interface optimized for the type of touch panel control that has become a familiar
feature in a wide range of applications. Allowing most operations to be carried out via the touch panel alone,
the innovative TF series interface will quickly become second nature to a broad spectrum of users.

Whether you have experience with Yamaha digital consoles, work with other digital consoles,
operate analog consoles, or have never operated a mixer before, the TFe console will lead you to the desired
results quickly and effortlessly through a smooth, efficient workflow. The availability of physical controls surrounding
the touch panel further enhances control versatility and precision.
Touch & Turn Knob Offers Extra Control Precision
When you need extra precision for a fine EQ or other adjustment, the physical Touch & Turn
knob is always available right beside the touch panel. There are also four User Defined
Knobs below the panel that can be assigned to control compressor threshold, EQ gain,
or other parameters you need fast, direct access to while mixing. The knobs always affect
the currently selected channel.
Shortcuts to Great Sound
ON the TF3, you'll notice the familiar Yamaha scene memory that stores mix settings for instant recall when needed is included as always. There's also a range of channel presets that have been created in cooperation with leading microphone manufacturers and eminent sound engineers, providing starting points that take you a long way towards achieving great sound.
The channel presets on the TF3 cover parameters such as HA gain, EQ, dynamics, and much more, right down to details like channel name and colour. Less time needs to be spent on basic setup so that more time is available for refining the mix and communicating with the performers.
Applications that Work Seamlessly with the Console
Separate software applications that allow wireless mixing, personal monitor mixing, or offline setup of digital live mixing consoles have become fairly common.The TF series goes a step further with three dedicated apps – TF Editor,
TF StageMix, and MonitorMix – that feature user interfaces that seamlessly extend the console's own on any device.
Unleash your creativity with the Yamaha TF3 24-input digital console!
Buy your Yamaha TF3 24 Channel Digital Mixer at the right price, from your Yamaha specialists in Brisbane - Musiclab!
For more detailed information, please visit Yamaha's website.
Yamaha TF3 Specs
Type: Digital

Channels: 24 - expandable to 48 mixing channels (40 mono + 2 stereo + 2 returns)

Inputs - Mic Preamps: 24 x XLR-1/4" combo

Phantom Power: 24 x Channels

Inputs - Other: 2 x Stereo (RCA), 1 x 1/4" (Footswitch)

Outputs - Main: 16 x XLR

Aux Sends: 8 x mono, 6 x stereo

Busses/Groups: 20 x Aux, 1 x Stereo, 1 x Sub

Data I/O: Ethernet (remote control of Tio1608-D for additional 16 channels)

USB: 2 x Type A, 1 x Type B

Computer Connectivity: USB (34 x 34)

I/O Expansion Slots: NY64-D audio interface card

Headphones: 1 x 1/4"

Faders: 25 x 100mm Throw

EQ Bands: 4-band

Effects: 8 Effects + 10 GEQ

Rackmountable: No

Height: 22.5cm

Depth: 60cm

Width: 71.5cm

Weight: 17kg

Manufacturer Part Number: TF3
| | |
| --- | --- |
| SKU | TF3MIXER |
| Model # | TF3 |
| Brand | Yamaha |
Yamaha TF3 24-input Digital Console Features:
TouchFlow Operation maximizes workflow efficiency

1-knob compression and EQ let you dial in the ideal sound

GainFinder supports precision gain setup

QuickPro presets provide instant access to pro sound setups

2 scene memory banks let you set up and instantly recall your settings

24 D-Pre mic preamps deliver phenomenal sound

Onboard effects bassed on SPX processor

TF StageMix iPad application provides wireless control

TF MonitorMix iOS application allows for wireless personal monitoring

34 x 34 digital record/playback channels via USB 2.0 + 2 x 2 via a USB storage device

1 expansion slot for NY64-D audio interface card

Expandable to 48 mixing channels
Be The First To Review This Product!
Help other Musiclab users shop smarter by writing reviews for products you have purchased.