Yamaha MODX8+ 88-Key Synthesiser
SKU: MODX8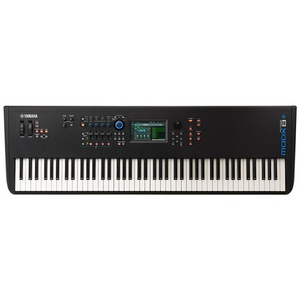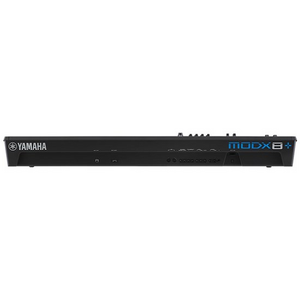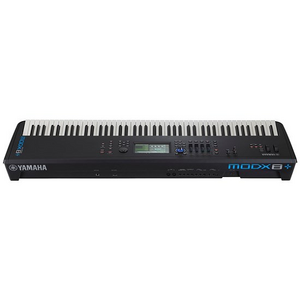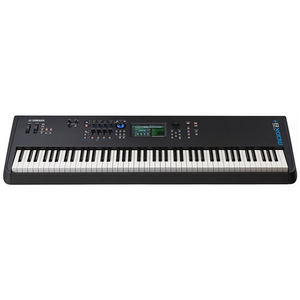 $2,529.00
RRP $2,999.00
SAVE $470.00
MODX8+ is a compact, lightweight, 88-key weighted action synthesizer with the piano, instrument and synth sounds pianists need to stand out on the stage, studio or stream.
---
Yamaha MODX8+ 88-Key Synthesizer
The most important element of any instrument is the sound. MODX+ makes all elements of your music sound amazing. MODX+ uses the same technology that powers the flagship MONTAGE: 128 notes of AWM2 (Advanced Wave Memory 2) sample and synthesis polyphony for stunning emulative acoustic instruments, synth sounds and drums. MODX+ also features 128 notes of FM-X (Frequency Modulation) polyphony - a unique, expressive, highly-programmable synthesis technology for dynamic, electro-modern music creation.
The AWM2 engine is exclusive to Yamaha synthesizers and offers much more than just sample playback. Each of the 16 AWM2 Parts feature eight programmable synthesizers with 18 different filter types, amplitude, pitch and filter envelope generators, nine LFOs, 3-band EQ and a dedicated dual insert effect with Virtual Circuitry Modeling.
Everything you love about the iconic DX7 meets the latest Yamaha innovations. FM-X produces classic '80s or cutting-edge EDM synthesizer sound with incredible dynamic range, power and fidelity. MODX+ goes well beyond the capabilities of the original DX7 with an 8-operator FM architecture, 128-note polyphony, many filter types and more. All with Motion Control for ever-evolving and changing textures to create sounds no one has ever heard before.
Smart Morph enables morphing between FM-X sounds. Its sophisticated A.I. algorithm creates an interactive morphing map from up to eight FM-X sounds. You can "play" this map from the touchscreen or use the Super Knob to move between two points. The result is a staggering number of interesting and interactive new sounds.
MODX+ features 128-note stereo AWM2 polyphony and 128-notes of FM-X polyphony. Due to the unique architecture of MODX+ and MONTAGE, this polyphony is always available without latency or compromising other features. Save your music in a flash. MODX+ includes 1.75GB of non-volatile, low latency user flash memory with high speed reading/writing for your own custom samples or synth libraries.
MODX+ is packed with DSP innovation, power and sound quality to bring you everything from high-definition reverbs to detailed Virtual Circuit Modeling (VCM) effects. Get EDM sound with effects like Beat Repeat, Vinyl Break or Bit Crusher. Use the Spiralizer effect to create the auditory illusion of tone continuously rising or falling in pitch. Add a compressor with sidechain for a modern "ducking" effect. Or go retro with vintage effects like Analog Delay, VCM Phaser or a variety of Amp Simulators. Piano players will feel like they're in heaven, or some other incredible performance space, with piano-focused effects like Damper Resonance and HD reverbs for a super-realistic piano experience.
Buy your Yamaha MODX8+ at the best price from your local synthesiser experts, Musiclab in Brisbane.
For more information on the Yamaha MODX8+, please visit the manufacturer's website.
Be The First To Review This Product!
Help other Musiclab users shop smarter by writing reviews for products you have purchased.