Yamaha CP-88 Digital Stage Piano
SKU: CP88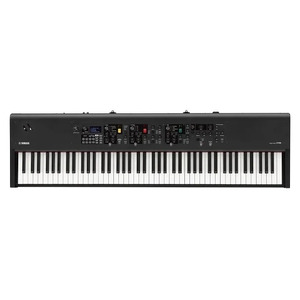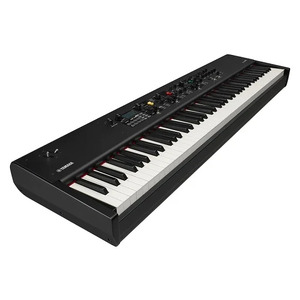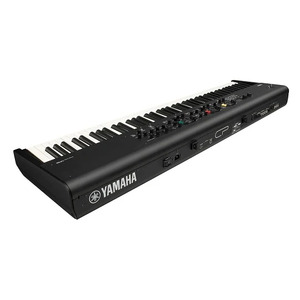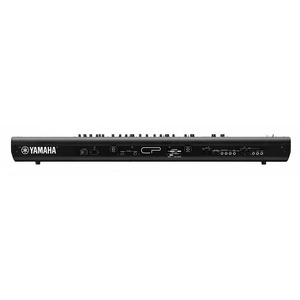 $3,389.00
RRP $3,899.00
SAVE $510.00
The CP88 is Yamaha's flagship stage piano; it boasts authentic acoustic and electric piano sounds with a focus on performance with most tweakable functions controlled via a dedicated knob or switch, making for quick, intuitive control over your sounds.
---
The CP88 is Yamaha's flagship stage piano; it boasts authentic acoustic and electric piano sounds with a focus on performance with most tweakable functions controlled via a dedicated knob or switch, making for quick, intuitive control over the sound of the instrument in a live performance setting. It is one of the most inspiring stage pianos currently available from any manufacturer.
The CP88 features Yamaha's Natural Wood Graded Hammer action with synthetic ebony and ivory keytops, giving the player complete control over ever nuance of their playing. They also include 10 world class acoustic piano voices and 14 authentic electric piano voices with dedicated control sections for each, giving the user the option to shape the specifics of their sound easily in real time. As well, the CP88 also includes 33 additional sounds that can be layered or assigned to a certain section of the keyboard.
A range of effects, both voice-specific and global, add a depth of realism to the sound and can be controlled directly from the front of the keyboard.
At 18.6kg, the CP88 is extremely lightweight for a stage piano of this calibre – perfect for musicians taking this instrument on the road.
For more information on the Yamaha CP88, please visit the manufacturer's website.
Control Interface:
Number of Keys: 88

Type: NW-GH3 (Natural Wood Graded Hammer) keyboard: synthetic ebony and ivory keytops
Voices:
Tone Generation: AWM2

Polyphony: 128

Number of Live Set Sounds: 160 (Preset Live Set Sounds: 120)

Number of Voices: 127 (Piano: 16 / E. Piano: 19 / Sub: 92)
Effects:
Delay: 2 types (Analog, Digital)

Reverb: 1 type (Hall)

Master EQ: 3 bands (with sweepable MID)

Insertion Effect: Piano: 2 systems (1: Damper Resonance / 2: Compressor, Distortion, Drive, Chorus), E. Piano: 3 systems (1: Drive / 2: Auto Pan, Tremolo, Ring Modulator, Touch Wah, Pedal Wah, Compressor / 3: Chorus1, Chorus2, Flanger, Phaser1, Phaser2, Phaser3), Sub: 1 system (Chorus/Flanger, Rotary Speaker, Tremolo, Distortion)
Connectivity:
Line Out: OUTPUT [L/MONO]/[R] (6.3 mm, standard phone jacks, UNBALANCED), OUTPUT [L]/[R] (XLR jacks, BALANCED)

Headphones: 6.3 mm, standard stereo phone jack

Foot Controller: Foot Controller, Foot Switch (Sustain)/(Assignable)

MIDI: MIDI In/Out

USB: USB to host/to device

Aux: Input (L/Mono/R) (6.3mm, standard phone jacks)
Other:
Connectors: AC In

Display: Full Dot LCD (128 x 64 dots)

Additional Package Contents: Owner's Manual x 1, Power cord x 1, Foot pedal (FC3A) x 1

Size: (W) 1298mm, (H) 141mm, (D) 364mm

Weight: 18.6KG
| | |
| --- | --- |
| SKU | CP88 |
| Model # | CP88 |
| Barcode # | 889025115629 |
| Brand | Yamaha |
Premium Acoustic Grand Pianos
CP73 and 88 feature six grand pianos the Yamaha C7, C3, and four premium concert grands in the CFX, S700, CF3 and the Bösendorfer Imperial 290. Through meticulous recording and voicing, these unique pianos now bring a variety of tone, dynamics and character to any performance.
CFX: The result of over seventeen years in development, the Yamaha CFX, our flagship concert grand piano. With clear highs, powerful bass and incredibly dynamic range, the CFX boasts the strength to project over a full symphony orchestra.

BÖSENDORFER IMPERIAL 290: Bösendorfer is currently the only manufacturer in the world still practicing the Viennese handcrafted design tradition to the rich tonal characteristics of the "Viennese Sound." Their 9.5' 8-octave Imperial 290 model features extended bass notes for warm bass and natural treble.

S700: Built by Yamaha master artisans, the S700 is a handcrafted acoustic grand piano with the power to cut through dense arrangements and the control to remain expressive in solo and sparse settings. A staple from the S90 ES stage synthesizer and MOTIF ES music production synthesizer, the S700 remains one of the most popular grand piano Voices available today.

Hamburg Piano: The full, rich tones of an authentic Hamburg concert grand piano, recorded in a concert hall by one of the world's foremost classical music engineers to capture every nuance.

NASHVILLE C3: The Nashville C3 is a small but character-rich grand piano engineered in conjunction with our Sound Design and Artist Relations teams. The piano was recorded in our Yamaha Entertainment Group Studios and processed with real analog tape for a distinctive vibe and character.

CF3: New to OS v1.4, the classic CF3 sound from the Yamaha CP300 stage piano is well-known among professional musicians. A excellent fit for both pop and gospel music, players will find that the CF3 offers the powerful sound they're looking for. CP OS v1.3 and CP OS v1.4 add different sound variations of this highly requested piano.

C7: The Yamaha C7 holds the honor of being the most recorded piano in music history. Not only does its signature sound cut through dense mixes to work well with any kind of music requiring a bright piano, but the C7 also features an exceptionally expressive soft layer as well.
Yamaha Acoustic Upright Piano
U1: The UI is the most popular upright piano in the world. The CP73 and CP88 U1 Voice features a vintage, well-used character. This makes it perfect for any music needing the vibe and sound of an authentic upright piano.

SU7: The SU7 is the flagship Yamaha acoustic upright piano. The SU7 delivers a rich, resonant tone from shared CFX concert grand hammer specification.

Felt Piano: This is felt piano done the Yamaha way. In a collaboration with Steinberg, we recorded our felt piano in the Yamaha speaker test lab using a proprietary sampling robot to create ultra-precise note velocities and intimate layers.
Electric Pianos & Keyboards
Yamaha CP80: Yamaha introduced the CP80 and CP70 electric grand pianos in 1978 to give musicians "portable" (it weighed over 300 pounds!) grand piano sound that could cut through a live band. Now, the strength of the CP80 lives on in the CP73 and CP88 with a powerful sound that does for the piano what amplification did for guitar.

78 RD: Suitable for all music genres, the 78 Rd tine electric piano boasts a high quality, smooth sound — great for pairing with effects like chorus, delay and reverb.

75 RD: If you're after a distinctive vibe with plenty of character, look no further than the 75 Rd. Its dirty, funkier sound with a nice low end "bark" works great for playing leads and parts requiring a more rhythmic approach.

73 RD: The 73 Rd is a warm tine electric piano Voice with vintage vibe. This piano works nicely with ballads, early 70s fusion, Neo Soul or any time you need to support a singer or lead instrument.

73 RD STUDIO: This 1973 studio tine electric piano features smooth, warm tones, perfect for laying down chord beds in ballads, jazz and R&B.

74 RD STAGE: Another option when looking for something more aggressive, this bright electric stage piano works well for soloing or more syncopated rhythm parts.

67 RD: This unique, 1967 "silver top" tine electric piano has a legacy with Los Angeles recording artists and session musicians. This instrument was fully restored, 100% authentic and featured in countless recording sessions, concerts and even television shows. Its distinct tone and "played-in" character perfectly represent an old school sound.

For versatility, we physically adjusted the original instrument's tines to capture both dark and bright versions of this unmistakably iconic Voice. This gives two unique and useful characters for different musical situations.

WR: With vintage and modern versions, the Wr reed electric piano voice is a staple of multiple genres from rock to soul. The CP Wr electric piano Voice provides two options ("Warm" and "Bright") so you can match the sound to the musical setting.

WR WIDE: This reed electric piano features an isolated power supply for ultra-low, virtually non-existent noise. The result was a precisely balanced, expressive sound landing just between the Wr's Warm and Bright versions.

ORGANS, CLAVI AND KEYBOARDS : The CP73 and CP88 also feature a variety of other keyboard sounds to cover any playing situation, including: tonewheel, transistor and pipe organs plus clavi, FM pianos and more.
Synths, Strings and more
Cover any musical situation with the CP73 and CP88's library of synth sounds. Split, layer or solo warm pads, lush strings, deep synth basses, synth leads, brass and more. With the real-time one-to-one CP control interface, you can instantly customize your sound for performance or recording. You'll get new pads, new synth brass, new synth leads and a new synth bass. Because there's no such thing as too much synth.
CP OS v1.5 gives you more instruments at your fingertips with new solo and ensemble saxes, new guitars, musette, solo strings and horn.

Even more additions to pads and strings like synths, acoustic ensembles and pizzicato strings

Sforzando brass section

Two new guitar voices classical and fingered steel
New to OS v1.2:
An additional 28 Sub section sounds

New pads and strings perfect for layering with pianos

Chromatic percussion vibraphones, marimbas and more

Expanded CP versatility with bass, synth leads and brass
Effects:
CP73 and 88 feature an extensive, integrated effects section for creating your own, unique sound. Each of the three sections (Piano section, Electric piano section and Sub section) features dedicated effects.

There are also master effects with delay, reverb and master EQ with dedicated controls for easy, real-time tweaking.

VCM (Virtual Circuitry Modeling) Effects

Virtual Circuitry Modeling re-creates the sound and behavior of vintage effects and high-end studio signal processors by modeling the circuits down to the original analog component level.
Be The First To Review This Product!
Help other Musiclab users shop smarter by writing reviews for products you have purchased.