Universal Audio Volt 176 (1 in/ 2 out) USB 2 Audio Interface
SKU: VOLT176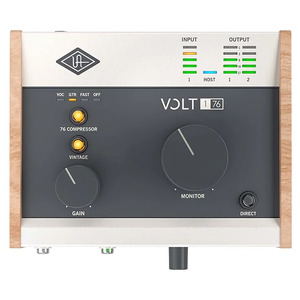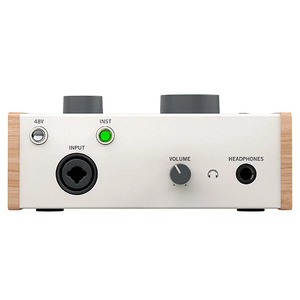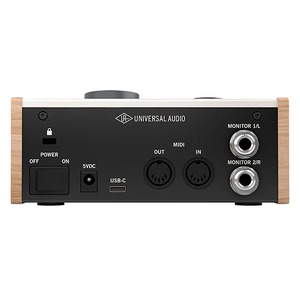 ---
Universal Audio Volt 176 (1 in / 2 out) USB 2 Audio Interface
Record Yourself with Best-in-Class Audio Quality
From the team that brought you the game-changing Apollo interface, Volt 176 delivers superior studio sound quality, with more character and tone than any USB interface in its class.
Volt 176 is for singers, songwriters, musicians, livestreamers, and podcasters who want to easily record audio with big studio tone. Plug right in to your Mac, PC, iPad, or iPhone and Volt 176 just shows up — ready to capture your inspiration with professional sound, courtesy of Universal Audio.
Capture a Classic Vocal with Vintage Mic Preamp Mode
Few sounds can compare to a vintage Universal Audio 610 tube preamp, as used to record everyone from Ray Charles to Van Halen. Volt 176 gives you the rich, full sound of this classic UA mic/line/instrument preamp, thanks to its built-in tube emulation circuitry, a UA exclusive.
Control Volume Peaks with UA Compression
Get album-ready punch and presence with Volt 176's onboard 76 Compressor — an innovative analog circuit inspired by UA's classic 1176 Limiting Amplifier. The 76 Compressor features three perfectly tailored presets to tame voice, guitars, synths, and drum machines. Just plug in, pick a setting, and play.
The Volt 176 gives you simple 1-in/2-out audio connections. Just plug a mic or instrument into the front panel. Then connect your speakers or headphones to monitor your audio with no latency. With Volt, you'll be creating like a pro, fast.
Plug Volt 176 into your iPad or iPhone, and you can easily create beats and samples, record your band's rehearsals, and edit songs anywhere.
Featuring rugged metal construction, retro wood sides, and sleek industrial design this product is built to last decades.

Some audio interfaces give you a collection of random audio apps. Not Volt. Instead, we put together a bundle of serious music production tools, virtual instruments, and plug-ins from the industry's best including -
Marshall Plexi Classic Amp Bundle by Softube
Ableton Live 11 Lite
Melodyne Essential by Celemony
Ampeg® SVT-VR Classic Bass Bundle by Plugin Alliance
LX480 Essentials by Relab Development
Virtual Drummer DEEP by UJAM
Virtual Bassist DANDY by UJAM
LABS by Spitfire Audio
Buy your Universal Audio VOLT176 USB Audio Interface from your Universal Audio experts in Brisbane - Musiclab!
For more information on the Universal Audio VOLT 176 USB Audio Interface, please visit the manufacturer's website.
Universal Audio Volt 176 Specs:
USB-C

Bus Powered

DI Input

1 x Michrophone Preamp

Analog Inputs - 1 x 1/4" Jack

Analog Outputs - 2 x 1/4" Jack

1-in/1-out MIDI connections

USB-C to USB-A cable included

48V phantom power for condenser microphones
Universal Audio Volt 176 Features:
Desktop 1-in/2-out USB audio interface with class-leading 24-bit/192 kHz audio conversion for Mac, PC, iPad, and iPhone

Vintage Mic Preamp mode for recording voice or guitar with the rich, full sound of a classic UA tube preamp

Built-in 76 Compressor adds instant clarity and punch to voice, instruments, and other sources with all-new analog circuit based on UA's iconic 1176

Essential suite of audio and music software from Ableton, Melodyne, UJAM's Virtual Drummer, Marshall, Ampeg, and more

Studio-quality headphone amplifier for loud, clear monitoring

USB bus powered to reduce cable clutter

48V phantom power for condenser microphones

Direct Monitoring for latency-free recording

Stylish, rugged construction built to withstand years of use
Be The First To Review This Product!
Help other Musiclab users shop smarter by writing reviews for products you have purchased.