sE Electronics SPACE Specialized Portable Acoustic Control Environment
SKU: RFSPACE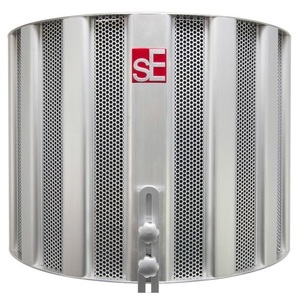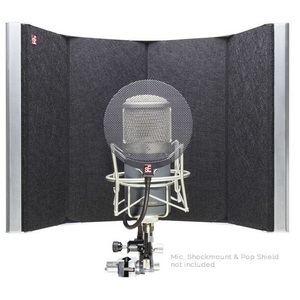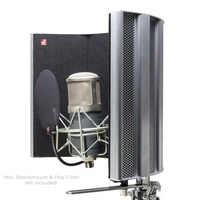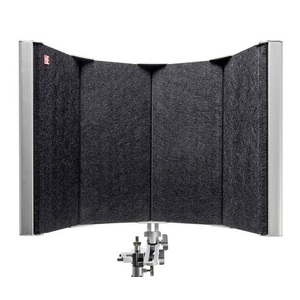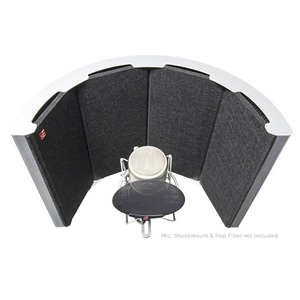 ---
Create Better Recordings in Any Space!
The RF SPACE (Specialized Portable Acoustic Control Environment) marks another step forward for the professional tracking engineer.
With a larger surface area, enhancement of sE's patented multi-layer technology, deeper air gaps, and more efficient materials, the SPACE offers great full-bandwidth absorption, isolation, and diffusion to help you gain control over your acoustic environment. Larger than our industry-standard RF Pro and entry-level RF-X, the added size also makes the SPACE filter perfectly suited for larger microphones.
Each SPACE filter is hand-built by our team at the sE factory - not mass-produced by an army of machines - and made to last for years and years of recording.
New specialized mounting hardware allows the SPACE to be easily mounted on any microphone stand or drum hardware, with a full range of motion – adjustable and lockable horizontally, vertically and tilted at any angle. This makes the SPACE utterly stable and effective in any recording environment.
Better sound thanks to sE's Multi-Layer Air-Gap technology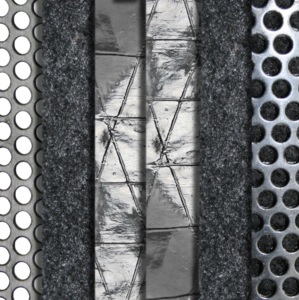 SPACE is sE's thickest acoustic filter to date, with 10 full layers of various materials to absorb and diffuse as much sound as possible. Materials include a punched aluminum diffusor, wool absorbers, tensioned aluminum foil membranes, polyester acoustic fiberboard, and a polycarbonate diffusor, all separated and isolated by asymmetric air gaps. Even if you're recording in a highly reflective room, SPACE gives you the acoustic isolation you need in a convenient design.
Seven Vertical Bass Trap Pillars
Punched Aluminium Diffusor
Acoustic-Grade Wool Absorber
Tensioned Aluminum Foil Membrane Diffusor
Isolating Air Gap
Tensioned Aluminum Foil Membrane Diffusor
Acoustic Grade Wool Absorber
Polycarbonate Diffusor
Asymmetric Isolating Air Gaps
Patented Polyester Acoustic Fiberboard
What's in the Box?
1 x SPACE Reflexion Filter®
1 x stand assembly hardware
2 x sealable sandbags (for supporting your mic stand if it starts to lean - sand not included)*
1x mic stand thread adapter
*Some users prefer to use a straight cymbal stand over a mic stand.
You'll make better recordings with the
sE
Electronics SPACE!
sE Electronics SPACE Acoustic Isolation Filter Features:
Acoustic filter for reducing unwanted reflections in your microphone
Exceptional acoustic control from 10 thick layers of various materials
Rugged mounting clamp is adjustable to help you get the perfect angle with your microphone
Improves bass clarity, midrange detail, high-frequency clarity, and stereo imaging
Perfect for voiceover, foley, and music production
---
Free pick-up from store
- $0.00
Free in-store pick-up from Level 2, 34 Campbell Street Bowen Hills
Be The First To Review This Product!
Help other Musiclab users shop smarter by writing reviews for products you have purchased.