sE Electronics Reflexion Filter Pro Portable Vocal Booth
SKU: RFPRO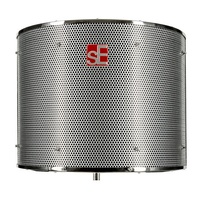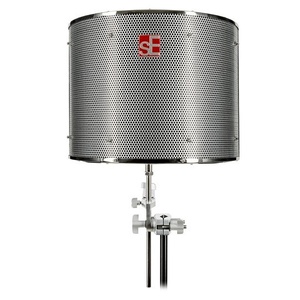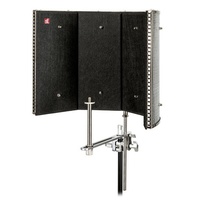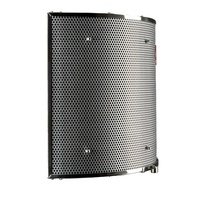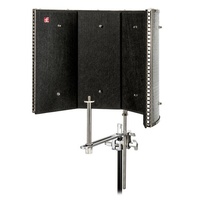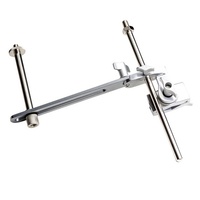 ---
Portable, Better Sounding Recordings!
Not everyone has the budget to work in a nice acoustically treated space for their recording. That's where the Reflexion Filter® PRO comes in and does a pretty impressive job of making your mic sound better because its six different layers diffuse the sound waves around the mic. It can mount on any mic stand and you can take this portable acoustic treatment anywhere. Even better, the Reflexion Filter costs a fraction of what it would cost you to acoustically treat the whole space you're recording in!
How Does it Work?
When you put a microphone in front of you, it doesn't just hear you - it hears the room around you.
Even if it's a cardioid mic and is listening mostly to just you, it's still picking up reflections from your voice or instrument that are bouncing off the walls and coming back to the mic. The goal of acoustic treatment is to minimize the pickup of such reflections so your primary sound source comes through as pure as possible.
So why not just put some cardboard or foam behind the mic?
Some materials are good at absorbing or reflecting particular frequencies - for example, foam absorbs highs really well, but does nothing for lows.
Unlike cheap foam RF imitations, sE's patented multi-layer technology works evenly across the whole frequency spectrum to ensure a balanced, even sound with no coloration at all.
Ultra-Stable Hardware
It allows panning and tilting for maximum flexibility, and all moving parts are chromatized to ensure low wear. The extra stability means that your RF Pro can be positioned solidly at any angle to help provide a "dry" sound when recording any source - vocals, acoustic and electric guitars, amplifiers, drums, room mics, strings, and countless other instruments.
What's in the Box?
Reflexion Filter® Pro

Mounting bracket

Screw wrench

Mic stand thread adapter
Buy your sE Electronics Filter Pro at the right price from your sE Electronice stockists in Brisbane - Musiclab!
For more detailed informations, please visit the manufacturer's website.
sE Electronics Reflexion Filter Pro Portable Vocal Booth Features:
Transportable absorber / diffuser

For mounting behind the microphone (not included)

For recording without disturbing influences of space

Dimensions: 390 x 200 x 320 mm
Be The First To Review This Product!
Help other Musiclab users shop smarter by writing reviews for products you have purchased.