Radial JDI Passive Direct Box w/ Jensen Audio Transformer
SKU: JDI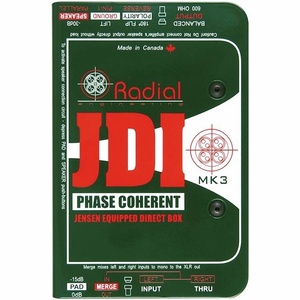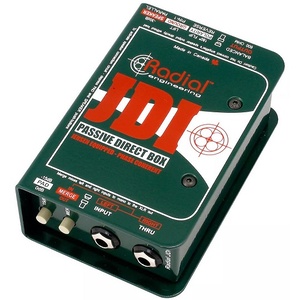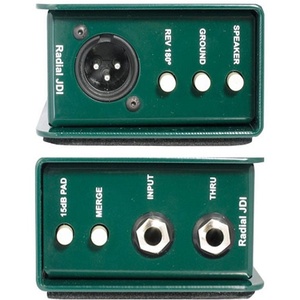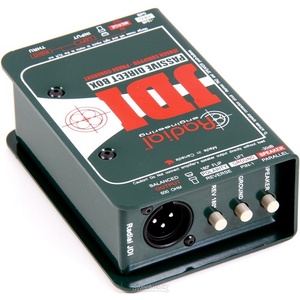 ---
World's Finest DI
The Radial Engineering JDI is a high performance passive direct box for live concert touring and professional studio recording applications, featuring a premium Jensen transformer for exceptional audio performance.
Pure Sound of the Instrument
The Radial JDI is a passive direct box designed to handle extreme signal levels without distortion of any kind. At the heart, the Radial JDI employs the world class Jensen JT-DB-EPC audio transformer delivering a smooth, warm sounding Bessel curve, reminiscent of the finest vintage gear. Ruler flat from 10Hz to 40kHz and with virtually zero phase deviation, the JDI delivers the natural, pure sound of the instrument without artifact. By its no-power passive design, the Radial JDI performs both high-to-low impedance conversion and signal balancing over a magnetic bridge that passes signal while rejecting stray DC voltage. This makes the JDI particularly adept at eliminating hum and buzz caused by ground loops.
Built tough to handle the abuse of live touring, the JDI features a 14-gauge steel I-beam inner frame and a unique book-end outer shell. The innovative design eliminates stress on the PCB, reducing opportunity for solder joints to go 'cold' while the outer shell creates a protective zone around the switches and connectors. The steel casing resists noise-causing electromagnetic pollution and the transformer's sensitive inner workings are further protected from magnetic fields with a MuMETAL® can. This ensures the signal transfer is quiet and free from hum.
Buy your Radial Engineering JDI from your Radial specialists in Brisbane - Musiclab!
For more information on the Radial Engineering JDI, please visit the manufacturers website.
Radial Engineering JDI Specs:
Audio circuit type: Passive, transformer based

Transformer: JT-DB-EPC

Number of channels: Single channel (mono)

Frequency response: 20Hz ~ 20KHz (± 0.2dB)

Dynamic range: 135dB

Total harmonic distortion: 0.05% from 20Hz ~ 20kHz @-10dB

Phase Deviation: 0.3° @ 100Hz; 3° @ 20Hz

Input Impedance: 140k Ohms, unbalanced

Output Impedance: 150 Ohms, balanced

Maximum Input: +21dB @ 20Hz ~ 20kHz

Features

Input pad, Mono Sum, 180° polarity reverse, Ground lift, Speaker filter

General

Construction: 14 gauge steel chassis & outer shell

Finish: Durable powder coat

Size (L x W x D): 5" x 3.3" x 1.8" (127mm x 84.1mm x 45.5mm)

Weight: 1.55 lbs (703 grams)

Shipping size (L x W x D): 6.5" x 4" x 3" (165mm x 102mm x 76mm)

Shipping weight: 1.92 lbs (870.9 grams)

Power: Passive, no power required

Conditions: For use in dry locations only between 5°C and 40°C

Warranty: Radial 3-year, transferable
Radial Engineering JDI Features:
Input and throughput ¼" connectors

-15dB input pad

Ground lift

180º degree polarity reverse

Jensen Transformer equipped passive DI

Eliminates hum and buzz from ground loops

Virtually zero phase and harmonic distortion

Exceptional signal handling and noise rejection
Be The First To Review This Product!
Help other Musiclab users shop smarter by writing reviews for products you have purchased.