Radial JDI Duplex Stereo Passive DI w/ Jensen Audio Transformers
Passive Full-Featured Stereo Direct Box
SKU: JDI-DUPLEX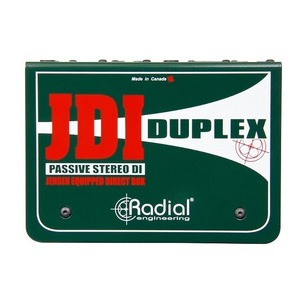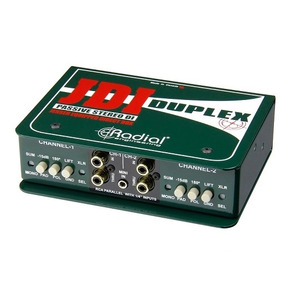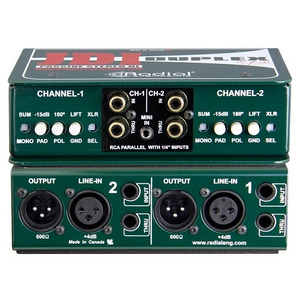 ---
Passive Full-Featured Stereo Direct Box
The JDI Duplex is a high performance 2-channel passive direct box designed for enhanced connectivity for any application, with numerous input connector types and premium Jensen transformers for exceptional audio performance.
Unparalleled tone, multiple connector options
The JDI Duplex takes the exceptional transparency and wide bandwidth of the JDI Stereo passive direct box, and adds numerous connector types and line-level inputs to provide the audio technician with the ability to interface with any stereo sound source. Designed to handle extreme signal levels without distortion, it utilizes two world-class Jensen JT-DB-EPC audio transformers to deliver a smooth, warm sounding Bessel curve - reminiscent of the finest vintage gear.
Ruler flat from 10Hz to 40kHz and with virtually zero phase deviation, the JDI Duplex delivers the natural, pure sound of the instrument without artifact. The inputs can be accessed via 1/4", RCA, 3.5mm TRS, or XLR line-level connectors, making it easy to plug in any sound source, from stereo instruments to consumer playback equipment like an ipod, computer or CD player, or professional +4dB line-level audio equipment.
Applications:
Digital piano, samplers and keyboards

Stereo bass guitar & synth setups

CD, DJ mixers and DVD players

Inputs for line-level +4dB sources
Features at a Glance:
Jensen transformer equipped passive DI
Eliminates hum and buzz from ground loops
1/4″, 3.5mm, RCA, and XLR inputs to connect to any source
Exceptional signal handling and noise rejection
Worth noting (Pro Tip):
You can use the RCA and 3.5mm inputs in tandem with the ¼" inputs. However, please note that if all of the connections are carrying audio at the same time you may have some of the signals overpowering the others, which may require some careful balancing of the source materials to make things sound good as the inputs on the Duplex are simply wired in parallel with each other.
Duplex in Multimedia System
Whether you have a CD player, iPod, computer or professional +4dB balanced source, the Duplex can handle any situation.
Duplex with Stereo Keyboard
The Duplex is able to withstand huge transients without distortion. This gives digital keyboards a warm, smooth vintage tone.
Duplex with Two Stereo Sources
With the dual stereo architecture, the Duplex can easily be set up to handle two different stereo sources at the same time.
Buy your Radial JDI Duplex Stereo Passive DI from your Radial Specialists - Musiclab in Brisbane.
For more information, please visit the manufacturer's website.
Radial Engineering JDI Duplex Stereo Passive DI Specs:
Audio circuit type: Passive, transformer based

Transformer: Jensen JT-DBE

Number of channels: 2

Frequency response: 20Hz ~ 20kHz at +/- 0.2dB

Dynamic range: 135dB

Total harmonic distortion: 0.001%; 1kHz/+4dBu; 600 Ohm load

Phase Deviation: -1° @ 20Hz; 0.5° @ 150Hz; 600 Ohm load

Input Impedance: 140k Ohm PAD off; 10k Ohm PAD on

Output Impedance: 600 Ohms

Maximum Input: +20dB @ 1kHz

Features

Input pad, Mono Sum, 180° polarity reverse, Ground lift

Input Connectors: 1/4", RCA, 3.5mm, XLR

Output Connectors: XLR, 1/4" thru

Extras: Line Level or hi-Z input

General

Construction: 14 gauge steel chassis & outer shell

Size (L x W x D): 160mm x 48 x 127mm (6.3" x 1.9" x 5")

Weight: 1kg (2.2lbs)

Shipping size (L x W x D): 210 x 159 x 83mm (8.25" x 6.25" x 3.25")

Shipping weight: 1.43 kg (3.15 lbs)

Power: Passive, no power required

Conditions: For use in dry locations only between 5°C and 40°C
Radial Engineering JDI Duplex Stereo Passive DI Features:
'Plug & play' easy-to-use!

Transformer isolation eliminates hum & buzz

Linear response from 10Hz ~ 40kHz

Enhanced connectivity with ¼", RCA, and XLR inputs

Extraordinary level handling without distortion

Built to handle the rigours of live touring

No battery or phantom power required

Makes just about anything sound better!

Jensen transformer equipped for ultimate performance
Be The First To Review This Product!
Help other Musiclab users shop smarter by writing reviews for products you have purchased.