Quiklok QL742 Double Tier X-style Keyboard Stand
SKU: QL742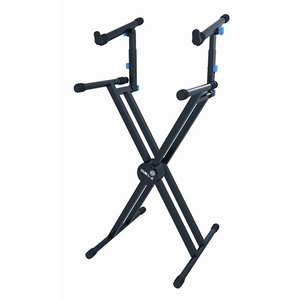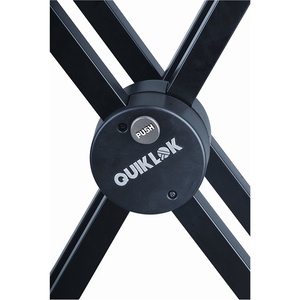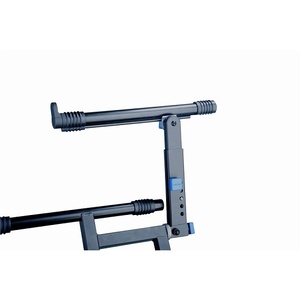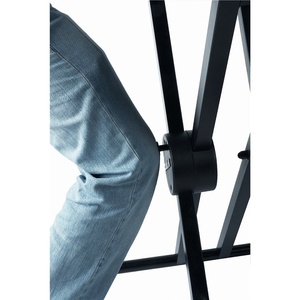 ---
Double Tier Pro Keyboard Stand
Quik Lok QL742 ProSeries double braced, double tier keyboard stand – Black Professional heavy-duty double-brace X stand. The "Pro Series" stands are capable of holding the heaviest keyboards safely and securely. The absolute hands down choice of most professional musicians because of its adjustability, strength and reliability.
The QL742 Pro Series Stand features the new Quik Lok Push to adjust locking disc system with user-friendly push button and super heavy duty 30 mm x 30 mm steel tube bracing for extra sturdiness and structural support.
The second tier set is fully adjustable in height, angle, tilt and depth, and offers the musician maximum flexibility of use. A complete line of accessories allows the user to customize the QL/742 to fit their needs perfectly.
Second Tier angles: 90°, 77°, 64°, 51°
2nd tiers height position (5): From 5.7" to 8.8" - 14,5 to 22,5 cm *(measured from main tiers level)
For more detailed information, please visit the manufacturer's website.
Leg depth: 61 cm (24″)

Main Tier depth: 43.5 cm (17″)

Second tier depth: 42 cm (16.5″)

Second Tier angles: 90/ 77/ 64/ 51°

Folded height: 101 cm (39.8″)

Overall Weight capacity: 90 kg (198 lb)

2nd tier weight capacity: 33.7 kg (74 lb)

Weight: 9.3 kg (20.5 lb)

Brace tube size: 30 x 30 mm

Tier tube size: 30 mm (1.2″)

Colour: Black

Package: 1

Master carton: 1

Options: QLX/1, QLX/3, QLX/4, QLX/5, LPH/X
Be The First To Review This Product!
Help other Musiclab users shop smarter by writing reviews for products you have purchased.