New RedNet tools for the studio
By: Tim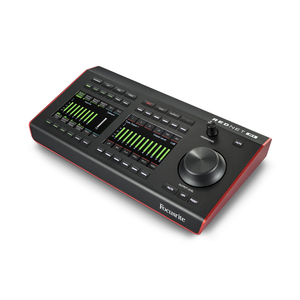 New RedNet tools for the studio
The team at Focusrite have released the details of their expanded range with the new R1 desktop controller, the 8Line, D16MkII and A16RMkII interfaces.

RedNet R1
The R1 desktop controller has the ability to draw on sources from Pro Tools | HD, other DAW's, analog inputs and outputs, ADAT and S/PDIF connections or from an entire Dante Network, all at your fingertips and in one package.
Supporting 8 channels from 32 available sources you can route to 12 separate monitor outputs. You also get a mic pre for talkback and a high powered headphone output so you can easily cue any of your 32 sources. To top it all off you have direct visual feedback from two large LCD displays right there so you can see what's happening across all that I/O.
The new interfaces
The A16RMkII (analogue) and D16MkII (digital) interfaces add 16x16 I/O to a Dante network all over a convenient Thunderbolt 3 connection
The new 8Line features 56-in and 64-out and follows on from the popular 16Line feature set. With half the channel count and a price to match it's a great option for the smaller setup.