Neumann MT48 Reference USB-C Audio Interface
SKU: MT48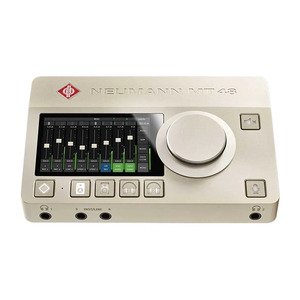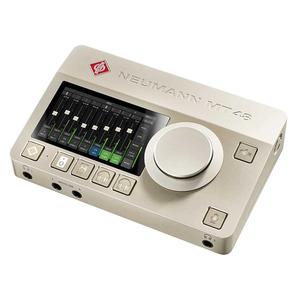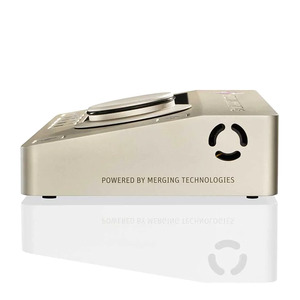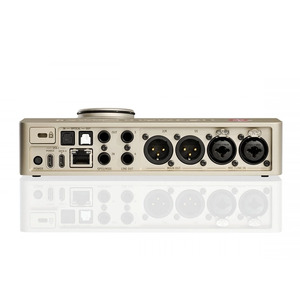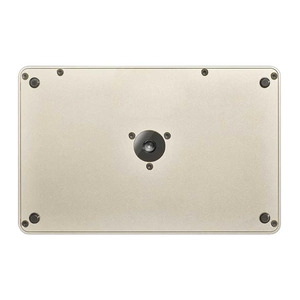 ---
The New Benchmark
The MT 48 is an audio interface without compromise. With its huge dynamic range, superior converters, preamps and headphone amplifiers, it sets new standards in sound quality. Internal DSP power allows for monitor mixes with sophisticated EQ and dynamics processing – all intuitively controlled via touchscreen.
The Perfect Link
The MT 48 brings Neumann quality to the digital workflow. It is the first audio interface in its class that is able to capture the full dynamic range of Neumann microphones and is optimally matched to the KH-Line of studio monitors and Neumann headphones. The result is an ideal signal chain without any bottlenecks: uncompromising sound quality from the microphone diaphragm to your ear.
Swiss Precision Made
The MT 48 was developed in close cooperation with the Swiss manufacturer Merging Technologies, whose high-precision AD converters offer a staggering dynamic range of 136 dB. This gives the MT 48 four times the resolution of comparable audio interfaces.
The MT 48 comes fully equipped for the reference-class personal studio: two extremely low-noise mic/line preamps with up to 78 dB gain, two line/instrument inputs, four monitor/line outputs and two superb headphone outputs, each with state-of-the-art AD/DA converters. The MT 48's connectivity may be expanded via ADAT / S/PDIF and AES67; a MIDI interface is also integrated. Four separate monitor mixes can be controlled directly on the unit via touchscreen. On-board processing includes a fully parametric 4-band EQ and a 3-way dynamics processor (gate/compressor/limiter) per channel as well as a high-quality reverb. So musicians get inspiring sound for top performances. And there is still plenty of DSP power for future developments.
Record with or without effects… or both!
The MT 48 is an audio interface and digital mixing desk in one. You can use its DSP processing for monitoring only, or you can print effects while recording. Or both at the same time! Thanks to the unique Dual Output Technology, wet and dry signals can be recorded simultaneously via separate driver channels. So, if necessary, you can fall back on an unprocessed backup.
A New User Experience
Despite its enormous scope of features, the MT 48 always remains easy to operate. All settings can be made on the device itself via the built-in touchscreen. The perfect monitor mix is just a touch away! Simply use your fingers to adjust pan pots, channel faders and much more, without having to switch to a mixer software on your computer. The MT 48 can even be operated stand-alone as a mixing console.
The MT 48 leaves nothing to be desired: audio quality at the highest level, built-in DSP processing, comprehensive expandability, and convenient operation via touchscreen. The MT 48 is the missing link in the Neumann universe, connecting microphones, loudspeakers and headphones to create the perfect studio.
Class-leading AD-converter resolution with a dynamic range of 136 dB

2 premium-quality mic/line preamps, 2 pristine line/instrument inputs

4 line/monitor outputs

2 ultra-low impedance headphone outputs with adjustable crossfeed

ADAT / S/PDIF optical I/O, AES67, MIDI/GPIO

Two driver outputs per input channel for pre-FX and/or post-FX recording

Intuitive touchscreen user interface
For more information, please visit the manufacturer's website.
Mic Inputs 1 – 2
Dynamic range 136 dB-A

Equivalent input noise (150Ω) −128 dB-A

Input impedance 10 kΩ

Gain range +12 … +78 dB in 0.5 dB steps or 0.1 dB (fine)

Pad 12 dB/24 dB

Max. input level 0 / +12 / +24 dBu (without Pad/with Pad)

THD + N preamp + ADC @ 1 kHz, 0 dBFS < −110 dB (0.0003%)
LINE INPUTS 1 – 2
Dynamic range 138.5 dB-A

Input impedance 10 kΩ

Gain range 0 … +66 dB

Sensitivity +24 dBu … 42 dBu

Max. input level +24 dBu

THD + N preamp + ADC @ 1 kHz, 0 dBFS< −105 dB (0.0006%)
Instrument/Line Inputs 3 – 4
Dynamic range: 136 dB-A

Input impedance: 2 MΩ (balanced) / 1 MΩ (unbalanced)

Gain range: 0 … +66 dB

Sensitivity: +18 dBu … −48 dBu

Max. input level: +18 dBu

THD + N preamp + ADC @ 1 kHz, 0 dBFS: < −112 dB (0.0003%)
Line/Monitor Outputs
Output impedance < 70 Ω

THD+N @ 1 kHz, 0 dBFS < −110 dB (0.0003%)

Dynamic range 123 dB-A

Max. output level +24 dBu
Headphone Outputs
Output impedance 0.035Ω

Dynamic range 122 dB-A (high) / 117 dB (low)

Max. output level +16 dBu (high) / +8 dBu (low)
| | |
| --- | --- |
| SKU | MT48 |
| Model # | 700260 |
| Brand | Neumann |
Audio interface with premium quality high-resolution converters

Touchscreen user interface

4 internal mixers with DSP processing (EQ, Dynamics, Reverb)

2 mic/line inputs

2 line/instrument inputs

4 analog outputs (stereo)

ADAT / S/PDIF I/O

AES67/Ravenna connectivity for networked audio

USB computer interface

Powered by Merging Technologies
Neumann MT 48 box includes:
1x MT 48 Audio Interface

1x Universal Power Supply incl. USB C Connection Cable

1x USB A Data Cable

1x USB C Data Cable

1x Softcase

1x Quick Guide

1x Safety Guide
Be The First To Review This Product!
Help other Musiclab users shop smarter by writing reviews for products you have purchased.