Lewitt MTP W950 Premium Condenser Handheld Microphone
SKU: MTPW950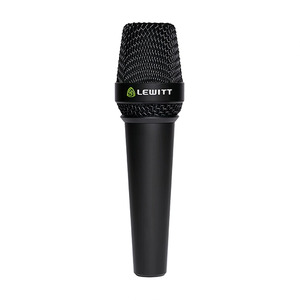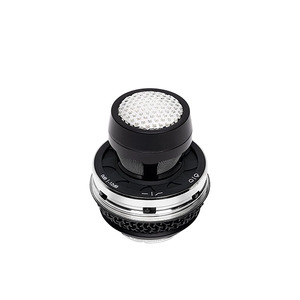 ---
Experience unparalleled studio sound quality during your stage performances, rehearsals, and recording sessions with the Lewitt MTP W950. Its 1" true condenser capsule, known for its superior performance, ensures exceptional audio fidelity. Seamlessly integrate the microphone into your setup by detaching the capsule and connecting it to industry-standard wireless systems*.
Enjoy crystal-clear live mixes and monitoring without worrying about feedback issues. The MTP W950 boasts an industry-leading rear rejection of 90%, guaranteeing excellent sound isolation and minimising unwanted noise. Its outstanding feedback resistance ensures a smooth and uninterrupted performance every time.
The microphone's cupping-safe design allows you to hold it in any position without compromising the integrity of your tone. Additionally, the MTP W950 features a dual-layer protection system that shields the capsule from plosives, wind, and moisture, ensuring its longevity and reliability in various environments.
Tailor the microphone's performance to your specific needs using the convenient switchable features. With the ability to switch between cardioid and super-cardioid polar patterns, you can easily adjust the microphone's directionality to capture the desired sound. The switchable 12 dB attenuation provides flexibility in high-volume situations, while the 120 Hz low-cut filter helps eliminate unwanted low-frequency rumble.
Experience seamless compatibility with various wireless systems* without the need for additional adapters. The MTP W950 works effortlessly with popular models such as Shure, Lectrosonics, Sony handheld wireless microphone transmitters, Line6 XD-V55/XD-V75, and Mipro ACT series.
*Please see the product page for a more comprehensive list of compatible wireless systems.
Buy the Lewitt MTP W950 Premium Condensor Handheld Microphone today from your local microphone experts Musiclab Brisbane.
For more information on the Lewitt MPT W950, please visit the Lewitt website.
Frequency range: 20 … 20,000 Hz

Sensitivity: 8.1 mV/Pa, -41.8 dBV/Pa

Self-noise: 21 dB (A)

Max SPL: 140 dBSPL (0.5% THD)

Dynamic range: 119 dB (A) 

Low-cut: 120 Hz

Attenuation: 12 dB

Polar patterns: Switchable cardioid and supercardioid

Supply voltage (wired): 48 V

Supply voltage capsule (wireless): min 5 V

Connector: Gold plated 3-pin XLR, Capsule thread: 1¼-28UN-2A

Included: Microphone clip, windscreen, transport bag

Microphone dimensions: 51 dia. x 183 mm, 2 dia.

Microphone net weight: 397 g
| | |
| --- | --- |
| SKU | MTPW950 |
| Model # | MTPW950 |
| Barcode # | 847986002334 |
| Brand | Lewitt |
Limited two-year manufacter warranty.
Premium 1" true condenser handheld microphone for studio sound on stage

Can be used as XLR microphone or with industry-standard wireless systems (detachable capsule)

Crystal-clear live mixes and monitoring due to industry-leading rear rejection

Outstanding feedback resistance

Cupping safe design for high tone integrity

Extra longevity with dual layer protection against plosives, wind, and moisture

Switchable cardioid and supercardioid polar pattern

Switchable 12 dB attenuation

Switchable 120 Hz low-cut filter

Compatible wireless systems without adapter: most Shure, Lectrosonics, Sony handheld wireless microphone transmitters, Line6 XD-V55/XD-V75, Mipro ACT series

Compatible wireless systems with adapter: most Sennheiser wireless systems with interchangeable microphone heads via Ambient HHA adapter (adapter needed)

Microphone clip and transport case included
Be The First To Review This Product!
Help other Musiclab users shop smarter by writing reviews for products you have purchased.