Korg Nautilus Music Workstation w/ 88 Key Real Hammer Action 3 (RH3) Keyboard
SKU: NAUTILUS88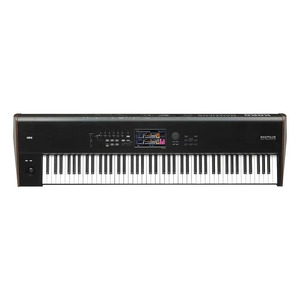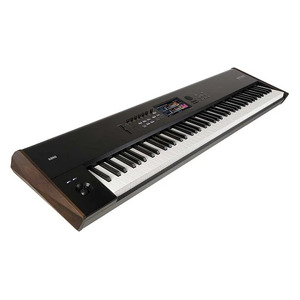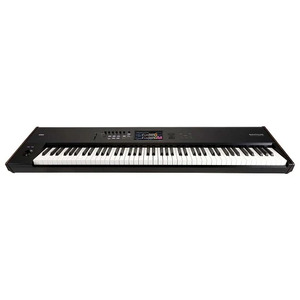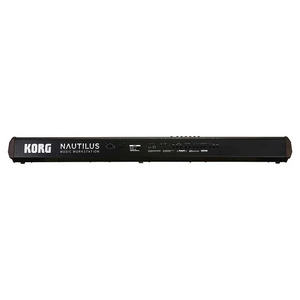 $4,399.00
RRP $6,299.00
SAVE $1,900.00
Korg NAUTILUS pushes the boundaries of what a performance synth and workstation is capable of, with the power of nine engines to drive a new approach to sounds, plentiful sampling, audio recording, effects, and processing power.
---
Korg NAUTILUS pushes the boundaries of what a performance synth and workstation is capable of. With the power of nine engines to drive a new approach to sounds, plentiful sampling, audio recording, effects, and processing power, there is simply no other synth that delivers more to explore sonically, with the workflow to get you there faster than ever. Korg spent years refining all their digital, analog, processing, and hardware technologies and delivering them in a way that helps the musician connect with their instrument. The result is the incredibly powerful, one-of-a-kind NAUTILUS.

The NAUTILUS brings you distinctive sounds including phrase loops, prepared pianos, found percussion and more. The NAUTILUS also offers the freshest sounds that blend in well with today's music scene, including synths, drum kits, special effects and more. In addition, KORG have brought together all of the most important sounds a workstation needs including piano, electric piano, guitar, bass guitar and more, covering all genres.

With the DYNAMICS knob, you can instantly control the changes in volume and tone in response to how hard you play the keyboard (velocity); and you can customize this knob in real time to match the keyboard playing feel required for each style and song. Even when playing the same sound, you can turn this knob to get the feeling of playing a completely different sound. By finding just the right setting for your playing style, you'll uncover even more of the possibilities that the NAUTILUS offers.

The six RT (real-time) knobs at the top left of the panel give you direct control over changes to the PROG and COMBI sounds. A variety of functions are assigned to each knob that lets you enjoy making changes to sounds, such as the filter cutoff and effect depth, the gate time, tempo and swing of the arpeggiator or drum track, the type of snare drum and more. In COMBI mode, you can group timbres and control their levels with the knobs. Further, you can press these knobs into the panel to lock them in place, preventing them from being accidentally changed while you're playing. For instance, you could use this to enable only the knobs you often use onstage and push the ones in that you do not need.

For the NAUTILUS, KORG have completely rethought the user interface, considering that panel controls tend to become denser as more functions are added. The interface of the NAUTILUS lets users find just the things they're looking for once they understand the principles. Four scenes of arpeggio patterns and drum track sets are made available. These are useful for switching between scenes while they're played, for use when improvising during performance, or for expanding your vision when composing music starting from a sound.

NAUTILUS can organise all of the resources you need to get through a song—or a set—using the Set List mode. Using the Set List mode, the TouchView display can host 16 colour-coded touch-screen buttons; each one can instantly call up the appropriate Preset, Combination, or Sequence—regardless of mode!

Using KORG's Open Sampling System, NAUTILUS can quickly sample an external audio source, regardless of whether NAUTILUS is in the Program, Combination, or Sequencer modes. The Open Sampling Mode can even resample the performance of the NAUTILUS itself. The user sample bank, which extends the convenience of the EXs sample library to user samples, allows custom samples to be loaded and played, taking advantage of the gigantic SSD capacity.
Nine Synthesizer Engines, United in One Instrument
NAUTILUS harnesses nine distinct synthesizer/sound engines into a single, integrated musical instrument. Dynamic voice allocation and new technologies allow all sound engines to smoothly share a stable, enhanced hardware platform. The results are nothing less than spectacular.
SGX-2 Premium Piano
This sound generator lets you perform with the sounds of famed grand pianos such as the German piano, on which the ambience sounds can be freely modified; or the Italian grand piano, whose sound is growing rapidly in popularity over recent years. These pianos offers delicate expressiveness to capture every last nuance of the acoustic piano, with 12-step velocity-switched sound, string resonance and more.

*String resonance
With the damper pedal depressed, all of the piano strings are free to resonate. When any key is played on the piano, other strings that are pitch-related to the original key may begin to vibrate via sympathetic resonance. The SGX-2 accurately captures and recreates this sympathetic string resonance, adding an additional level of detail to the grand piano sound.
* String resonance overtones can be viewed in the string length edit screen.
EP-1 MDS Electric Piano
This dedicated electric piano sound generator realistically reproduces seven different famous electric piano sounds, with the addition of an earlier model featuring a characteristic distortion. The MDS (Multi-Dimensional Synthesis) technology eliminates the transitions between velocity-switched samples, and does away with the unnatural behavior of looped samples. Smoothly responding to the nuances of the player's touch, yet allowing your performance to reach an energetic climax, this modelled engine features an astounding dynamic range that exceeds what one might expect from digital sound generation.

For each of the seven different models, different amps, cabinets, speakers, and standard vintage effects are realistically simulated. From the samples to the touch and the effects, all aspects affecting the sound are coordinated into a single package, making this the ultimate electric piano.
CX-3 Tonewheel Organ
Tonewheel organ sound engine

The original KORG CX-3 combo organ went on sale in 1980. Loved by musicians around the world, this classic organ reappeared in 2000 as a new product with the same name, but using the latest technology. In NAUTILUS, the CX-3 engine precisely models this classic tonewheel instrument. Proprietary KORG technology has been used to perfectly reproduce the vacuum tube amp, and effects such as Vibrato/Chorus. Special attention was given to the rotary speaker effect, which lets you choose from seven types, as well as use the NAUTILUS' joystick in the X-axis to control the speed. Even the instability, fold-back, leakage, and noise of the tonewheels have been obsessively analyzed and recreated. The organ sounds heard in legendary performances—some recreated here by the original artists—are now yours for the playing. Experience these classic organ sounds, reborn for the present day.
HD-1 High Definition Synthesizer
PCM sound engine

HD stands for "High Definition" indicating the HD-1's superior sound, starting with KORG's proprietary low-aliasing sample playback oscillators, full-bandwidth multimode resonant filters, and extraordinarily fast & smooth envelopes and LFOs. The HD-1 is the most powerful PCM sound engine in KORG's history, into which KORG has poured all the PCM know-how accumulated since the M1. All of KORG's acclaimed PCM sounds are painstakingly created by specialized technicians. Data that was reluctantly omitted from previous models due to limited memory has now been called back into service on the NAUTILUS. The amount of waveform memory alone might rival a PC-based sound engine. Yet the real difference is in the completely different level of quality and finish that is obvious when you play these sounds as instruments on the NAUTILUS. The finest technicians, working on the finest platform, and aiming at the finest quality: that's the HD-1.
MS-20EX Legacy Analog Collection
Analog modeling sound engine

Packed with cutting-edge technology, NAUTILUS nonetheless has respect for the classics. The KORG MS-20 first appeared in 1978 and quickly captivated many synth fans with its rich personality marked by thick and solid sound, aggressive filters, and patching capability that provided nearly infinite possibilities for creating sound. Using KORG's CMT (Component Modeling Technology) the MS-20EX faithfully reproduces the MS-20 while dramatically expanding its patch panel functionality. Modulate filters with audio-rate oscillators; turn audio inputs into control signals; control all of the original knobs with mod sources including additional envelopes, LFOs, and real-time controllers. It's a tweaker's dream. And of course, the NAUTILUS version is now majorly polyphonic.
PolysixEX Legacy Analog Collection
Analog modeling sound engine

The Polysix first appeared in 1981, offering six-voice polyphony and program memory, and a surprisingly competitive price tag. With its self-oscillating four-pole filter, smooth analog oscillator and sub-oscillator, plus a lush Chorus/Ensemble effect, the PolysixEX extends the abilities of the original in many creative ways. The strings and pads that were such a major feature of the Polysix will be invaluable when you need the sounds of the early '80s. The classic arpeggiator built into the original Polysix is also provided. As a bonus, it's also capable of extremely high polyphony.
AL-1 Analog Synthesizer
High-fidelity analog modeling sound engine

Feature-packed, the AL-1 is the same premium analog modeling sound engine that was first featured on the KORG OASYS, the Open Architecture Synthesis Studio back in 2005. Completely eliminating aliasing noise, and delivering the supple and fascinating sound of analog synthesis, this sound engine uses oscillator waveforms and filter morphing to generate new sounds that were unobtainable for analog synthesizers of the past.
MOD-7 Waveshaping VPM Synthesizer
VPM/FM synthesis sound engine

This sound engine uses VPM synthesis based on the VPM (Variable Phase Modulation) technology that powered two classic instruments, the Prophecy which appeared in 1995 and the Z1 which appeared in 1997 as a further evolution, and adds PCM sample playback, multi-mode filters, and external input to create a freely patchable semi-modular synthesizer. Combine Variable Phase Modulation (VPM) from KORG's classic Prohpecy and Z1, add in some wave-shaping, a little ring modulation, mix in a few samples, and add subtractive synthesis, plus a modular patch-panel system, and you have the MOD-7. Exceptionally versatile, it offers everything from classic FM keyboards, bells and basses (including the ability to import sounds from vintage DX synths) to rhythmic soundscapes and sparkling, epic pads.
STR-1 Plucked Strings
Physical model sound engine

Based on the physical modeling know-how KORG developed over the course of many years, this struck/plucked-string physical modeling sound engine takes advantage of cutting-edge technology. This sound engine shines at producing sounds whose tone responds to your touch in ways that are difficult for a PCM sound engine to reproduce: acoustic guitar, electric guitar, harpsichord, clavinet, harp, bell, as well as ethnic instruments. It also goes much further, allowing you to synthesize and modify sounds that do not exist in reality. This is a sound engine of the future, one that allows the synthesizer programmer to construct truly new sounds.
For more information on the KORG Nautilus, please visit the manufacturer's website.
Nine different sound engines offer massive expressive power

New sounds offered over three broad categories

The DYNAMICS knob makes delicate expression possible

Make intuitive changes to sounds with the Realtime knobs

A user interface designed for easy operation

Convenient arpeggiator and drum track functions

Colour TouchView Display

Set list mode that demonstrates its power in live performances

Open Sampling System

16-Track MIDI Sequencer / 16-Track Audio Recorder

16 Onboard Effect Processors

USB/MIDI Host Ports Accommodate MIDI Control Surfaces

Smooth sound transitions that eliminate dropouts when changing sounds, regardless of the mode you're in 88-key model with piano touch, 73-key model with light touch and 61-key model available
Be The First To Review This Product!
Help other Musiclab users shop smarter by writing reviews for products you have purchased.