Genelec 7360A 10" Powered Studio Subwoofer
SKU: 7360A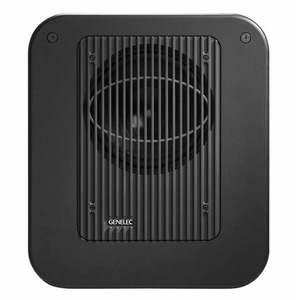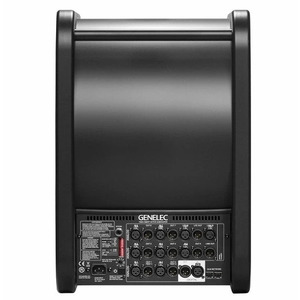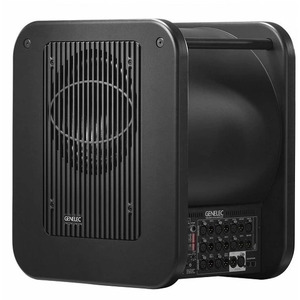 ---
Genelec Tech for Deep Bass Extension

Genelec's 7360A SAM Active Subwoofer is a powerful and precise bass monitoring tool for up to 7.1 surround systems. Built upon Laminar Spiral Enclosure (LSE™) technology with all of the features of Smart Active Monitoring (SAM™) at its heart, the 7360A Smart subwoofer is the perfect 10-inch partner for any Genelec Smart monitor.
With an integral 300W Class D amplifier and a peak SPL of 109 dB, the 7360A is deceptively powerful in a compact package, yet tempered with the accurate tonal characteristics and high dynamic capabilities of the proven 7000 Series. The subwoofer supports a distributed bass management architecture – a cost-effective package offering support for 7.1 multi-channel set-ups over analogue XLR inputs and outputs together with stereo AES/EBU XLR inputs and outputs without the need for additional external A/D converters. More versatility is available through its SAM features. Genelec Loudspeaker Manager (GLM™) software allows for the fine adjustment of up to 30 individual Smart monitors and Smart subwoofers, while AutoCal™ compensates for detrimental room influences to perfectly calibrate your set-up for your listening environment.
The ideal low-frequency monitoring tool for small to mid-sized studios, post and broadcast facilities, and outside broadcast vehicles, the 7360A Smart subwoofer ensures definition and neutrality you can trust.
Hear everything you should with the Genelec 7360A!
Genelec 7360 SAM Subwoofer Tech Specs:
19 Hz - 100 Hz (-6 dB) / LFE 19 Hz - 150 Hz (-6 dB)
H 527 x W 462 x D 365 mm, 20 3/4 x 18 3/16 x 14 3/8 inch
7.1 analogue XLR inputs / outputs, 1 x input / 1 x output XLR digital AES/EBU, 2 x RJ45 control network
Genelec 7360A SAM Studio Subwoofer Features:
Genelec Smart Active Monitor technology

LSE (Laminar Spiral Enclosure) optimized bass reflex cabinet

Includes bass management that handles multichannel LF content

Protection circuitry: drive unit protection for safe operation

Onboard 300-watt Class D amplification, active crossovers

AutoCal, for perfect automatic alignment

Energy-saving Intelligent Signal Sensing

Analog XLR inputs; stereo AES/EBU XLR I/O
---
Free pick-up from store Brisbane only
- $0.00
Free in-store pick-up from Level 2, 34 Campbell Street Bowen Hills
Be The First To Review This Product!
Help other Musiclab users shop smarter by writing reviews for products you have purchased.