The New Universal Audio Apollo X Interfaces
By: Malcolm On: 6 September 2018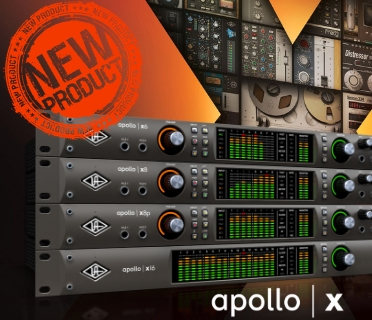 The Brand new Apollo X audio interfaces from Universal Audio have landed and it would be fair to say they're a significant step up from the current Apollo Rackmount interfaces. Perhaps you're someone who's been considering getting your feet wet with an Apollo, or you're already considering whether it's worth an upgrade to the new Apollo X range, there's plenty to wet your appetite here. So here's the go...compared to their predecessors, the new Apollo X interfaces have more DSP, higher plug-in counts, upgraded AD/DA converters, native surround compatibility*, and heaps more...but we're just getting started! All Apollo X models employ Thunderbolt 3 technology, so you pretty much have near-zero latency, Universal Audio's Realtime Analogue Classics Plus plug-in bundle, and the're wrapped in a click looking rack design. These Apollo X interfaces will work with both Mac and PC and are backward-compatible with any Mac** with a Thunderbolt port.
*Please note that the surround monitoring support mentioned above, will be available in the last quarter of 2018.
**Mac Pro (late 2013 "black cylinder" model) compatibility for Apollo X coming in the last quarter of 2018.
There's a bunch of new features to mention, but the most obvious is the bump in processing power. The SHARC chips in previous Apollos were powerful, but as you'd be aware some of newer, processor-hungry plug-ins sucked a lot of their resources. The Apollo X series has improved the grunt (so to speak), with UA's new 6-core HEXA Core processor, outputting a generous 50% more power than previous Apollo models. That means significantly higher plug-in counts, especially if you're networking multiple units together. The exciting thing about this is that Apollo X users will be able to call on a massive number of exclusive UAD-powered plug-ins from SSL, Studer, Manley, Lexicon, Neve, Fender, Ampex and more...nice!
Processing power is one thing, but certainly not the only upgrade with the new Apollo X range. Their upgraded elite-class AD/DA conversion can hold it's own with any high-end standalone converter out there. The engineers at Universal Audio auditioned the best AD/DA tech for these interfaces — stands to reason - they wanted the absolute best that modern technology had to offer. As you do, they paired these elite-class 24-bit/192kHz converters with some retooled analogue circuitry to get the absolute best sound possible.
The Apollo X series interfaces are stacked with a multitude of new features that are clearly aimed at pro users. Surround monitoring support*(Q4 2018), complete with speaker calibration and fold-down, is a sweet score for engineers working on audio and music for video games, film, TV, and online. Interfacing with your analogue console or other high-end analogue gear is seamless, thanks to selectable +20/+24dBu operation. You also get integrated talkback for easy communication and slating takes. With pro-level features like these, putting an Apollo X interface at the centre of your studio will be a welcome boost to your workflow.

The Apollo X series uses super-fast Thunderbolt 3 technology, which gives you speeds up to 40 Gbit/s. Let's just say aah...no more problems with latency! Each interface includes two Thunderbolt 3 ports, so you can network up to four Apollos (and six total UAD-2 devices). One of the best things, Apollo X interfaces are backward-compatible with Thunderbolt 1- and 2-equipped Macs, although you'll need a Thunderbolt 3 to Thunderbolt adapter (sold separately).
Like its predecessors, the latest iteration of this interface uses Universal Audio's acclaimed Unison technology, injecting the Apollo X series interfaces with the sound of legendary studio preamps. This technology actually adjusts the preamp circuit itself, shifting its impedance, analogue gain structure, so you're duplicating the sound and interactive behavior of the original hardware. You also get UA's Realtime Analogue Classics Plus plug-in bundle, which gives you an amazing arsenal of modelled analogue gear to get you going.
Universal Audio's Apollo X interfaces are available in four configurations: the x6 (16 x 22, two preamps), x8 (18 x 24, four preamps), x8p (18 x22, eight preamps), and x16 (18 x 20, no preamps). Any questions about which Apollo X would best suit your environment, give us a call here at Musiclab on (07) 3270-1111.
---
Leave a comment