Can a mini PC be used as a mobile ProTools rig?
By: Tim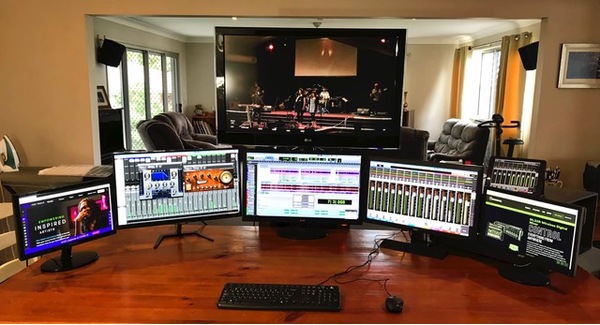 Computing technology has come a long way in the last few years with more and more power being put into smaller and smaller form factors. One question we get constantly is "How much computing power do I need to run this software with these plugins?".
Normally the answer is a complicated one and one that we struggle to answer as it depends on software, individual plugin requirements, track counts and the list goes on. As software and plugins get more powerful, the needs for fast processors, lots of memory and fast drives mean that you should normally just get the biggest and best computer system you can afford. This is daunting for many music makers and project studios as a ProTools approved system goes for more than $8000.
It is against this backdrop that we recently heard from our friend David Vine, who was experimenting with a new remote recording setup utilising Dante audio over IP and based around a small footprint Intel NUC mini PC. The work he put into testing this and his results were so great, we asked his permission to share.
David was already using the Mackie DL32R with optional Dante card and was looking for a portable, all in one ProTools system, with playback and recording directly to an external USB hard drive. He hoped to see all this, including a small access point, mounted with the mixer in a convenient road case for the road and studio.
The host computer in this test was an Intel NUC8i7HVK with two Samsung 1TB M.2 SSD's and 16GB RAM. The unit can handle up to six monitors, so six it was! For testing, there was a bunch of random monitors available, five of them had HDMI inputs and one was VGA. With a few adapters, he was ready to go and the NUC performed perfectly, with no lag, and it was quickly configured as a huge multi-display. The little NUC also has some quite fans so even with so many monitors, it was quiet, and would be perfectly at home in the studio environment as well.
Next, the system was tested running a prerecorded session off the internal SSD drive, which included a 1080p video. With 14 mono and 16 stereo tracks, some stereo summing and a bunch of plugins, it wasn't a huge session, but the mini PC was able to handle it easily. The session was configured to output audio over Dante with the Mackie DL32R for playback, with individual foldback sends running flawlessly at 4ms latency. Even while tracking drums! There was also a connected iPad running a separate foldback mix out of the Mackie, which ran without issue. All this with CPU total usage sitting comfortably at around 25-28% for the whole test.
In the live setting, David set the DL32R up so that inputs A 1-32 came through the Mackie's mic pre's, and inputs B 1-32 were in via Dante from ProTools. This setup performed perfectly as it meant he could have live channels coming into A inputs and pre-recorded or enhanced B inputs coming in from Pro Tools. All there and available to mix without perceivable latency and all at the same time. He also noted that doing a separate backup 32 track record of the live show to an external drive was seamless and easy using the Mackie's inbuilt record function.
Overall, the results from these tests were super promising and show just how much power can be pushed out of these little PC's particularly in live production and studio settings. Just imagine what can be done with these little units, the possibilities are endless.
A big thank you to David for sharing his findings with us.
---
Leave a comment