Your Neumann Microphone Buyers Guide
By: Malcolm On: 14 September 2018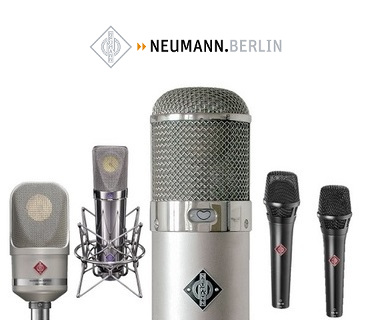 Neumann Microphones
Neumann have been busy celebrating their 90th Anniversary in 2018, and there's no doubt if you've have anything to do with recording in the professional audio field you will have heard of Neumann Microphones. If you're looking at or considering a Neumann Mic you're in good company, because there's a Neumann solution for every recording project…trick is there is such a range, how do you choose the right Neumann mic for the right job? So we've leveraged the years of wisdom here from the team at Musiclab to help you do just that.
Neumann microphones have been the go to choice for many top audio engineers for many many years simply because they know they'll get immaculate sound and consistent performance every time.
Which Neumann Mic is best for me?
The Musiclab team appreciate that choosing which mic sounds "best" is subjective. No matter where or in what environment you're recording in, you can be assured that Neumann mics will provide wide-ranging sound with stunning detail, low noise, and exceptional depth. Each Neumann microphone obviously has its own characteristics that help it stand out in particular applications, whether it's handling high SPL, vintage tube warmth, or vocals for that next radio hit. Let's take a look at popular Neumann Mic choices in live sound and studio environments.
If you start by choosing the right microphone for your application, the rest follows nicely including editing, mixing, and mastering.
Live Vocals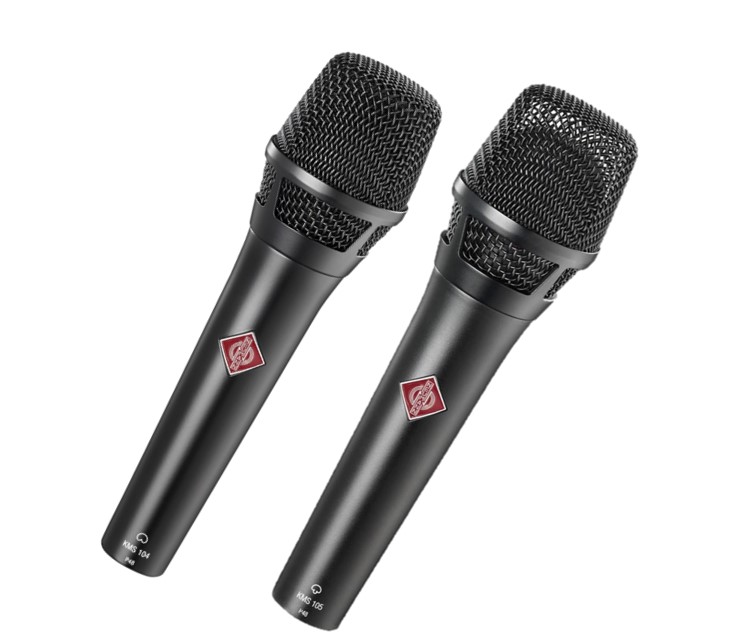 For performance vocals, we like handheld vocal microphones with high gain before feedback, superb off-axis rejection, plain old durability, and minimal handling noise. The Neumann KMS 105 and KMS 104 handheld condenser microphones tick all the boxes, in fact they exceed our expectations for all of counts, plus they sound super sweet and smooth to boot. With an internally shock mounted capsule they do an excellent job of rejecting handling noise and avoiding all those plosives as well.

Reckon we already know you're next question. What's the difference between the KMS 105 and KMS 104...are we close? The KMS 105 has a tighter super cardioid pickup pattern, for the best front-to-back sound rejection. The KMS 104 has a wider cardioid pickup pattern, for the best rear sound rejection. So if your mic's on a mic stand in front of a floor monitor speaker, the cardioid pattern will usually give you the best result. For handheld mic users or singers who move around a lot, the super cardioid pattern is a wise choice. The KMS 105 is also a popular choice for broadcasters too, with a number of large commercial radio studios across Australia now choosing the KMS105 as their studio microphone of choice.
Popular Neumann Microphone choices for Live Vocals
KMS 105 - Studio-quality vocal sound, super cardioid polar pattern for best front-to-back sound rejection
KMS 104 - Same outstanding sound quality, with cardioid polar pattern for best rear sound rejection
Studio Vocals
Obviously when you're recording vocals in the studio, handling noise and gain issues aren't sucj a big concern – you totally want to capture the best vocal sound you can get. Of course every artist is different, but Neumann microphones are timelessly proven to serve up world-class vocal recordings. Need maximum detail and clarity or vintage tube warmth? there's a Neumann mic that will exceed your expectations.

It's hard to beat a Neumann tube condenser mic like the M 149 if you're looking for a nice rich sweet vocal reproduction. With switchable polar patterns and a variable low-cut filter, the M 149 is a true vocal studio benchmark.

Want to capture sweet vocals without the enhanced harmonics of a tube mic, then the Neumann TLM 49 transformerless condenser microphone is an exceptional choice. With a wide response range and reliable, consistent tone across the dynamic range, the TLM 49 is an excellent choice for capturing passionate performances with incredible detail and clarity.

Budget or home studios, we won't leave you out, you can still partake in the exceptional sound quality of Neumann microphones with the TLM 102 large-diaphragm condenser. The TLM 102 features low-noise circuitry and uncoloured sound that's a nice solution for vocals and dialogue.
Popular Neumann Microphone choices for Live Vocals
M 149 – Vintage tube warmth, heard on countless major label recordings
TLM 49 – Modern, well-balanced tone at all SPL levels, excellent for dynamic singers
TLM 102 – Low noise, wide response, and transparent sound make this a great value
Live Instruments
The trick to capturing sound from a range of onstage acoustic instruments, is using microphones with great side rejection, a nice clear sound and wide frequency response. Among the Neumann family of mics, the KM 184 and KM 185 have been the mic of choice for live-sound engineers, in particular for acoustic guitar, percussion and brass. They provide a nice clean sound with brilliant dynamic range, which makes the job of getting great live sound a lot easier.
The KM 184 is the best for rear sound rejection with a cardiod polar pattern, while if it's side rejection you're looking for, the supercardiod pattern of the KM 185 will give you an excellent result. you choice is going to be dependant on where the mic is going to be positioned in relation to amps and montirs etc on stage, but you'll get the same stunning sound quality from both models.
Popular Neumann Microphone choices for Live Instruments:
KM 184 – Transparent sound and extremely high SPL handling, cardioid polar pattern for the best rear sound rejection
KM 185 – Same sound qualities as KM 184, supercardioid pattern for better front-to-rear sound rejection
KMS 105 – Extremely clear sound, with superb transient detail suitable for acoustic guitars and percussion
Studio Instruments
So when you're recording in your studio you're keen to capture the full dynamic range of the instruments you're recording nice and clearly with absolute minimal noise. Straight up, the all-rounder in the studio is the U87 Ai. Whether it's as an overhead pair on a drumkit, hand percussion or an electric guitar amp, it'll caplably cover them all. It's the later version of the classic U87, and hand can high SPL for it'll capture loud sources with great clarity.
Need something that can give you a "larger-than-life" quality, you're in luck with the Neumann M 150 Tube Condenser! The omni polar pattern means you'll grab every acoustic details in any room, and the transient response is incredible. Right at home in a well-treated acoustic space to capture super vibrant and life-like recordings.
The Neumann team have also made a couple of mods to their classic U47 FET condenser mic, surfacing as the U47 FET Collector's Edition, renounded by engineers as one of the best kick drum mics of all time. It's earned that rep because of its high SPL handling, consistent sound right across the dynamic range, and brilliant transient response. They all make the U47 FET an excellent choice for bass instruments, percussion and even the ocassional vocalist!
Popular Neumann Microphone choices for Studio Instruments:
U 87 Ai – High SPL handling and clear, present sound are perfect for drum overheads
M 150 – Rich tube character, huge dynamic range, wide-open sound, and superb transient detail
U47 FET Collector's Edition– Legendary kick drum mic, also outstanding on percussion and bass instruments
Broadcast and Film Production
Our installtion team from the Repair & Service side of the business Totally Technical recently ceompleted a new studio build for Sea FM and Mix FM and used KMS 105 mics in the new on air studios...word is the announcers love them. For a nice radio-ready dynamic alternative, you need to try the Neumann BCM 705. A nice rich sound with low noise and a highly focused hypercardiod polar pattern. It's also designed to reduce handling and mechanical noise during broadcast.
The Neumann KM 185 is a great choice for recording additional sfx or location sound that you need for post production. Clear, well balanced sound, nice and compact with a focussed pickup pattern make it a practical choice for your mobile recording rig.
Popular Neumann Microphone choices for Broadcast & Film production:
BCM 705 – Big, radio-ready sound, with excellent rejection of mechanical or handling noise
KM 185 – Small size, tight polar pattern, and clear sound make this ideal for foley and location recording
This guide hopefully serves to help point you in the right direction in relation to choosing a Neumann Microphone for your purpose. As always, if you have an questions about Neumann Mics or any microphone accessories, feel free to come in and see us, contact us online or give one of the team here at Musiclab a call.
---
Leave a comment