RØDE VideoMic Me-L for Apple iOS Devices
By: Malcolm On: 23 July 2018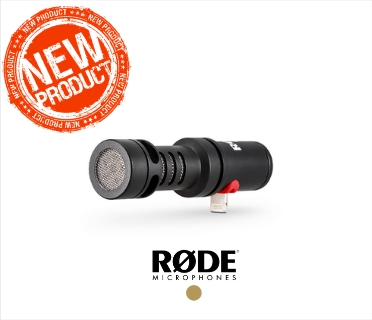 Here at Musiclab we're pleased to let you know that our very own Aussie legends RØDE Microphones, recently announced the release of the new VideoMic Me-L (designed for iOS devices) at the world's largest online creators expo, VidCon.
The VideoMic Me-L is a Lightning connector equipped high-quality directional microphone with a compact and lightweight body designed for Apple iOS devices, as long as you're running iOS 11 or higher. So that means pretty much any phone from iPhone 5S and most of the later model iPad minis, iPad Pros and iPad Air 2 etc.
Its Lightning connector plugs directly into the device, utilising the device's internal power for instant plug-and-play – so you don't need any batteries...nice!. A standard 3.5mm headphone jack on the rear lets you monitor you sound as you're recording (if you want to) in real-time and enjoy the enchanced audio on your video recording when you are watching it back.
Watch the Video of Ravi and Kristen as they demo using the RODE VideoMic™ Me-L around Sydney...it shows off the massive difference this mic will make to ALL your future iPhone or iPad videos!
The VideoMic Me-L is made from durable aluminium and coated in a military-grade ceramic finish, providing a hardwearing chassis that's resistant to scratching. It's a build quality far and away from the competition, reflected in superior sound. The microphone also comes with a deluxe furry windshield for shooting outdoors and in adverse weather, so you can kill that horrible wind noise.
The VideoMic Me-L is suitable for vloggers, musicians, marketers, Youtubers and basically any iPhone users wanting to drastically improve their iOS device's quality of sound.
We've had a play here at Musiclab, and it certainly does the job. Drop by and test one out for yourself, or if you're happy with what you've seen and read, and you're ready to grab one of these, click here and be our guest.
---
Leave a comment