macOS Big Sur compatibility - UPDATED
By: Tim On: 27 November 2020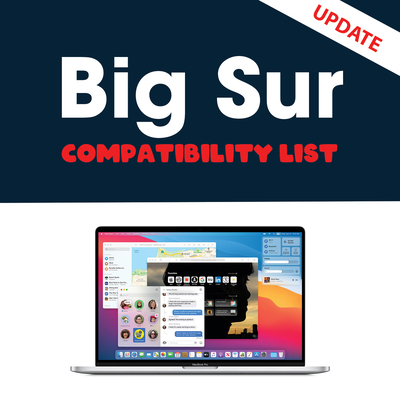 In November Apple released the long-awaited macOS Big Sur and brand new M1 silicon.
As is usual, when a new operating system comes along, most of the major audio hardware and software makers haven't yet ironed out all the bugs in running their software on the new OS. This normally means we have to wait a few months before the big names release updates that give their products full compatibility. This year's release has the added complexity of a new Apple proprietary chip, making it even more complicated for the manufactures to stay up to date.
At the moment the advice is, don't upgrade your Mac and turn off auto-updates so you don't wake up to a nasty surprise one day when none of your music-making equipment works.
To help know when to go ahead and update, we have made the list below which we will update regularly with news from hardware and software makers as they make announcements about the compatibility of their products.
If you hear something we haven't, please let us know and we can update our list.
16th Dec 2020 - Universal Audio
We're pleased to announce macOS 11 Big Sur compatibility for UAD plug‑ins, Apollo interfaces, and LUNA! Before you dive in, please be sure to read our release notes for specific information. Note that macOS 11 Big Sur supports Thunderbolt and PCIe‑based devices only; UA FireWire devices are incompatible.
11th Dec 2020 - FabFilter
FabFilter has just released updates for all FabFilter plug-ins that introduce native Apple Silicon support, including extensive optimizations specifically for the new Apple M1 processor. This means you can now take full advantage of the speed and efficiency of the new M1-based MacBooks and Mac Mini.
27th Nov 2020 - SSL
Our teams are working hard to ensure compatibility of all our products on the recently released macOS Big Sur. This FAQ will be updated with the latest information as and when we have it - so please keep checking back.
26th Nov 2020 - Waves
We are happy to announce that all Waves V12 plugins and Waves V11 applications (eMotion LV1, SuperRack, SoundGrid Studio, StudioRack, SoundGrid Driver) are now officially supported on macOS Big Sur 11.0.1 on Intel-based Mac computers. New Macs with Apple M1 (ARM-based) processors are not yet officially supported.
19th Nov 2020 - Avid
For Avid products that run on the Mac, Avid has been working to support macOS Big Sur and the new M1-powered Macs over the past several months in anticipation of these releases. There is currently no Pro Tools compatibility for Big Sur but Avid are indicating that an update is "Coming Soon". More information found here.
13th Nov 2020 - Line 6
Currently, Line 6 software products are not compatible with macOS 11 Big Sur. We recommend that you wait until Line 6 software product compatibility with macOS 11 is announced before updating to the new operating system. Compatibility is currently being tested and will be ensured in upcoming software updates.
12th Nov 2020 - Universal Audio
Please note that UA software, including UAD, Apollo, and LUNA, is not currently compatible with macOS Big Sur. UA software compatibility with Big Sur is being thoroughly tested, and full qualification is coming in future software updates. For more information and the latest macOS Big Sur news, please read the article posted in our Knowledge Base: macOS 11 Big Sur Compatibility Info
11th Nov 2020 - Focusrite