Austrian Audio OC18 Large-diaphragm Condenser Microphone
SKU: OC18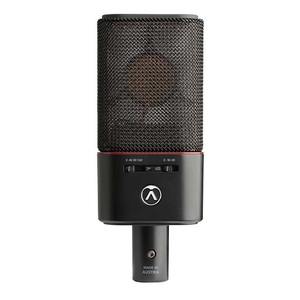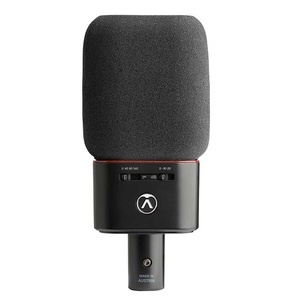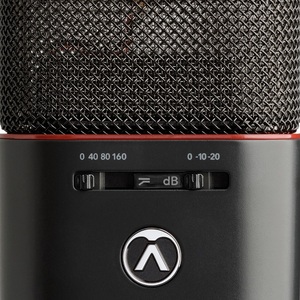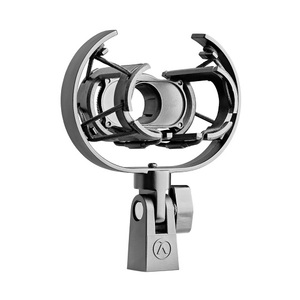 ---
The OC18 is a versatile large-diaphragm condenser microphone with a fixed cardioid polar pattern, -10dB and -20dB pads, and a three-position, switchable highpass filter. You can use the OC18 on any source with excellent results. Austrian Audio microphones are rigorously tested with state-of-the-art measurement systems and are precision matched to within a stringent 1dB tolerance. This means you can confidently use your OC18 along with another OC18 (or the company's multi-pattern OC818 set to cardioid) in a stereo-pair configuration and assure stunning results.
Outstanding results on any source
Austrian Audio pours into their products everything they have learned in more than 300 years of combined experience. The company's proprietary CKR12 capsule bears this wisdom, and a superior handmade capsule is the heart of any classic mic. In keeping with a fixed cardioid polar pattern, the OC18 uses the single-diaphragm version of the CKR12 capsule, which — in concert with the microphone's custom electronic circuitry — delivers excellent results when used for vocals, acoustic guitar, piano, drum overheads, strings, brass, percussion, and room capture. What's more, the OC18's robust, native 148dB maximum SPL capability — further increased by the inclusion of selectable -10dB and -20dB pads — also makes it ideal for louder sources such as tom toms and electric guitar cabinets.
Versatile cardioid polar pattern
If you had to choose only one polar pattern for all the mics in your studio, cardioid would be the one. Although we certainly recommend having multi-pattern microphones — such as Austrian Audio's OC818 — in your mic locker for tricky recording setups and advanced stereo miking techniques, your cardioid mics will be your "go-to" mics for the vast majority of recording and sound-reinforcement tasks. The OC18 uses the same handmade-in-Vienna CKR12 ceramic capsule as the OC818, but with only a single diaphragm, which keeps the cost down. After all, if you don't need multiple polar patterns, then why pay for them? With the OC18, you're getting almost exactly the same microphone as the OC818 with identical sonic performance. A great-sounding cardioid condenser mic like the OC18 will enjoy constant use in your studio.
The new Vienna classics
Carrying on the rich legacy of high-end Viennese microphone design into the modern era, Austrian Audio is driven by an engineering team with over 300 years of combined experience. Their motto: "Making Passion Heard." Their mission: to design and manufacture a new generation of recording tools that embrace cutting-edge technologies and sonic excellence while honoring Vienna's rich musical heritage. That vision is realized in Austrian Audio's proprietary, handcrafted CKR12 large-diaphragm capsule, which is used in the company's excellent OC18 and OC818 condenser microphones.
For more detailed information, please visit the manufacturer's website.
Microphone Type: Condenser

Polar Pattern: Cardioid

Diaphragm Size: Large

Frequency Range: 20Hz-20kHz

Max SPL: 148dB SPL

Output Impedance: 275 ohms

Sensitivity: 13mV/Pa Self Noise: 9dB SPL (A weighted)

Low Cut Filter: 40Hz, 80Hz, 160Hz Pads: -10dB, -20dB

Colour: Black Connector

XLR Power Source: 48V phantom power

Dimensions: 6.18" x 2.48" Weight: 0.74 lbs.

Included Accessories: Carrying Case, Spider Mount, Foam Windshield, Mic Clip

Manufacturer Part Number: 18005F10200
Handmade, single-diaphragm CKR12 ceramic capsule

Austrian Audio OC18 and OC818 mics are precision matched to within 1dB tolerance for accurate stereo capture

Compatible with Austrian Audio OC818 for spaced-pair applications

Polar pattern: Cardioid

Frequency response: 20Hz–20kHz

Sensitivity (all directions): 13mV/Pa

Equivalent Noise Level: 9dB SPL (A)

Maximum SPL: 148dB (158dB SPL with -10dB pad engaged)

Switchable pad: -10dB, -20dB

HPF: switchable 40Hz, 80Hz, 160Hz

Impedance: 275Ω (symmetrical)

Load impedance: >1kΩ

Supply voltage: 48V phantom (<2.2mA)

Includes spider mount, mic clip, windscreen, and storage case
Be The First To Review This Product!
Help other Musiclab users shop smarter by writing reviews for products you have purchased.