AirTurn Duo BT200 with 2 Pedals
SKU: DUO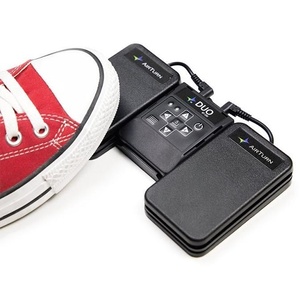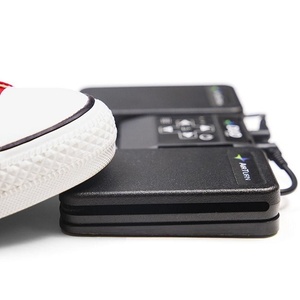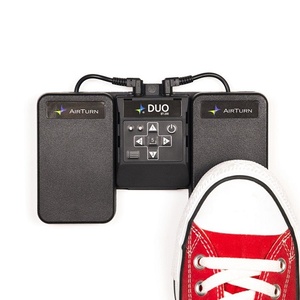 ---
Control of Your Bluetooth Devices with Your Feet!
The AirTurn Duo is a compact, wireless Bluetooth foot pedal designed for musicians in the studio and on stage, allowing hands-free control over various apps and software. The Duo can perform tasks such as page turning and scrolling documents, control basic recording and playback features inside Pro Tools, send signals to some transcription software, as well as volume and track selection functions in most media players.
The two rugged pedals are designed for silent operation, however external heavy-duty footswitches can be plugged into the Duo's BT-200 Digit transceiver if desired. The Digit can also be removed from the pedalboard and used as a hand-held remote control for use in presentations to control slides, play media or take photos. The battery offers approximately 100 hours of use and is recharged via the USB port.
Compatible with Apple and Android devices as well as Apple and Windows computers.
Airturn DUO Key Features at a Glance:
SILENT: Silent but tactile switching, perfect for intimate performances and studio sessions.
ENDLESS APPS: Hundreds of compatible apps for reading music/lyrics/tabs, triggering backing tracks/effects, MIDI, video/lighting and more!
CUSTOMIZE: 7 default modes cover most apps or assign custom keystrokes and shortcuts as well as MIDI commands using the free AirTurn Manager app.
MAX BATTERY LIFE: A rechargeable battery provides 150-200hrs play time with a single charge.
MAX RANGE: At 150+ feet, we lead the industry with maximum operating range.
Customization
Choose from 7 default modes that cover most apps or assign custom keystrokes and shortcuts as well as MIDI commands using the free AirTurn Manager app.
Adjust a full range of settings including: Keyboard strokes including modifiers, MIDI Commands and Notes, Auto-Repeat, Idle Time, Low Power or Fast Response Mode, Debounce, and Switch Types. Switches may be defined as Momentary, Latching, Pulse or Command.
Two pairing methods: Open pairing lets you store the connections of up to 8 different devices for instant connections. Closed pairing stores the connection for only one device and does not connect erroneously to other devices.
Use multiple pedals: Configure up to 8 devices at the same time for max customization.
Note: This product replaces the BT-105/6 series products with many new features.
Explore Apps for iPad, iPhone, Android, Mac & PC | Read the Manual
Buy your Airturn Duo from your Brisbane Airturn stockists - Musiclab.
---
Free pick-up from store Brisbane only
- $0.00
Free in-store pick-up from Level 2, 34 Campbell Street Bowen Hills
Be The First To Review This Product!
Help other Musiclab users shop smarter by writing reviews for products you have purchased.