ZOOM H6 Handy Recorder (Black)
SKU: ZOOMH6BK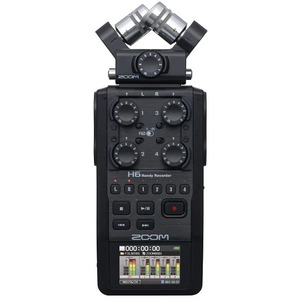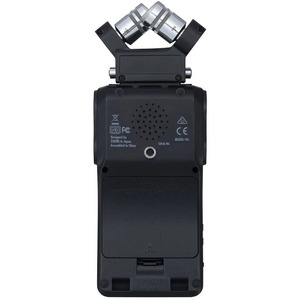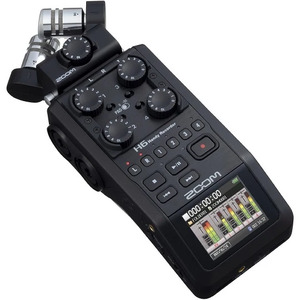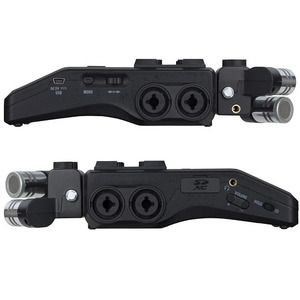 ---
Zoom Portable 6-Track Audio Recorder (in stylish Black finish)
The Zoom H6 Black Version is capable of handling a vast array of recording situations from live sound recording to professional broadcasts and is arguably the most professional portable recorder ever. The H6 includes an X/Y capsule features 2 cardoid mics, adjustable between 90 and 120 degrees for a wide but focused stereo image. Also available is a shotgun capsule for video recording, a shock-mounted X/Y capsule for minimising vibrations and handling noise as well as a dual XLR/TRS combo capsule to turn the H6 black into a 6-track recorder when more inputs are needed.
The H6 black features 4 combo input jacks for connecting microphones, instruments or line level sources, each with individual volume controls as well as a -20 dB pad for attenuating high level signals. Audio can be monitored through the built-in speaker or the headphone output and can also be sent to a DSLR camera via the line output. When connected to a computer the Zoom H6 acts as an audio interface and on-board processing allows audio to be recorded with effects, without latency. Up to 20 hours of audio at 24 bit/96 kHz can be recorded on just 4 AA batteries (included).
Podcast Anywhere
From the studio to remote locations, podcasts are produced everywhere. With inputs for every guest, the battery-powered H6 is a complete portable podcasting solution.

Unlimited Studio Time
The H6 is your personal music studio 24/7. With up to six* discrete line-level / mic-level inputs, plus the ability to overdub and more, the H6 provides the road from a great idea to the perfect track.
*Optional EXH-6 mic capsule required

Sound for Every Scene
Featuring interchangeable mic capsules, four combo inputs and six tracks of quality recording, the H6 is ready to record on any set and in any scene the director throws at you.
For more detailed information on the array of interchangeable Mic capsules, click HERE.
Includes 4 AA batteries, Zoom H6, X/Y capsule and Cubase LE & Wavelab SE download access codes. Note no SD Card included.
24 Bit / 96 kHz

Sample Rate: 44.1, 48, 96 kHz (wav) / 44.1 kHz (mp3)

Up to 6 channels can be simultaneously recorded

Changeable clip-on microphone (optional)

4 XLR/jack microphone-/line inputs, expandable to 6 inputs (optional I/O module)

6/2 Channel USB audio interface

Supports SD/SDHC cards up to 32 GB, as well as SDXC cards up to 128 GB

Colour LCD

Built-in loudpspeaker

Powered via 4 AA batteries or USB

Connection: USB 2.0 (Type B)

Dimensions without microphone (W x D x H): 77.8 x 152.8 x 47.8 mm
What's in the Box
Here's what comes included with the H6 Black.
H6 Handy Recorder
XYH-6 X/Y mic capsule
4x AA batteries
Quick Guide

Cubase LE & Wavelab LE software (download code)
Optional H6 accessories
SGH-6 Shotgun mic capsule
SSH-6 Stereo Shotgun mic capsule
MSH-6 MS mic capsule
EXH-6 Dual XLR/TRS Combo capsule
HS-01 Hot Shoe Mount adapter
APH-6 Accessory Pack
PCH-6 Protective Case
WSU-1 Universal Windscreen
ECM-3 Extension Cable (3 metres)
ECM-6 Extension Cable (6 metres)
Buy your Zoom H6 Black Handy Recorder from your Zoom specialists in Brisbane - Musiclab!
For more detailed information on the Zoom H6 Black Handy recorder, please visit Zoom's website.
Zoom H6 Black Handy Recorder Specs:
RECORDING MEDIA
SD Card: 16MB to 2GB
SDHC Card: 4GB to 32GB
SDXC Card: 64GB to 128GB
INPUTS
XYH-6 X/Y mic: Mic type: Unidirectional
Sensitivity: -41 dB, 1 kHz at 1 Pa
Input gain: -∞ to 46.5 dB
Max sound pressure input: 136 dB SPL
XYH-6 MIC/LINE IN:
Connector: 1/8" stereo mini jack
Input level: - ∞ to 46.5 dB
Input impedance: 2 k Ω
Plug-in power: 2.5V supported
INPUTS 1 to 4:
MicConnectors: XLR / TRS combo jacks
(XLR: Pin 2 hot / TRS: Tip hot)
MicInput gain: (PAD OFF) -∞ to 55.5 dB
MicInput gain: (PAD ON) -∞ to 35.5 dB
MicInput impedance: 1.8kΩ or more
MicMax input level: +22 dBu (PAD ON)
MicPhantom power: +12V /+24V /+48V
(Phantom power can be turned on/off independently for Inputs 1 - 4)
MicEquivalent Input Noise (EIN): -120 dBu or less
OUTPUTS
LINE OUT : Jack type: 1/8" stereo mini jack
Rated Output Level: -10 dBu when output load impedance is 10k Ω or more
PHONE OUT: Jack type: 1/8" stereo mini jack
Output Level: 20 mW +20 mW into 32 Ω load
Built-in speaker: 400mw 8 Ω mono speaker
RECORDING FORMATS
WAV:
Sampling frequency: 44.1/48/96 kHz
Bit rate: 16/24
(Mono/Stereo, BWF-compliant)
Maximum simultaneous recording tracks: 8 (L/R + INPUT 1 to 4 + L/R backup)
(Backup recording: -12dB lower than set L/R input gain
MP3:
Sampling frequency: 44.1kHz
Bit Rate: 48/56/64/80/96/112/128/160/192/224/256/320kbps
Maximum simultaneous recording tracks: 2
DISPLAY
LCD Screen: 2.0-inch full color LCD (320 x 240 pixels)
USB Mass Storage Class operation:
Class: USB2.0 High Speed
Audio Interface operation: Multi-track mode:
Class: USB2.0 High Speed
Inputs / Outputs: 6 / 2
Sampling frequency: 44.1/48kHz/96kHz
Bit rate: 16/24 bit
USB bus powered operation possible
BATTERY LIFE

Battery life (with alkaline battery, continuous recording) Over 20 hours
DIMENSIONS AND WEIGHT

H6: 77.8mm (W) x 152.8mm (D) x 47.8mm (H), 280g
XYH-6: 78.9mm (W) x 60.2mm (D) x 45.2mm (H), 130g
Zoom H6 Black Handy Recorder Features:
Interchangeable input capsules
Six-track simultaneous recording
Four mic/line inputs with XLR/TRS combo connectors
Gain control knobs and -20dB pads for each input
Supplied XYH-6 X/Y capsule provides secondary input via a stereo ⅛" Mic/Line In mini phone jack
Phantom power for all main inputs: +12/+24/+48V
Large full-color, angled LCD display
Records directly to SD, SDHC and SDXC cards up to 128GB
Up to 24-bit /96kHz audio in BWF-compliant WAV or a variety of MP3 formats
Auto-record, Pre-record and Backup-record functions mean that you'll never miss that perfect take
Built-in effects, including low-cut filtering, compression, and limiting
Multichannel and stereo USB audio interface for PC/Mac/iPad
Accepts standard AA alkaline or NiMH rechargeable batteries
Over 20 hours of operation with 4 AA alkaline batteries
---
Free pick-up from store Brisbane only
- $0.00
Free in-store pick-up from Level 2, 34 Campbell Street Bowen Hills
Be The First To Review This Product!
Help other Musiclab users shop smarter by writing reviews for products you have purchased.
---
We Also Recommend
---
You May Also Like
---
Others Also Bought
---
More From This Category