Rodecaster Pro Podcaster Studio Console
SKU: ROD-RCP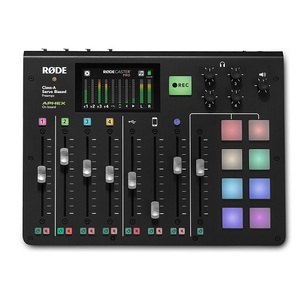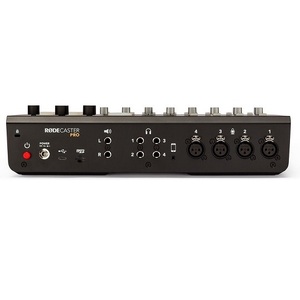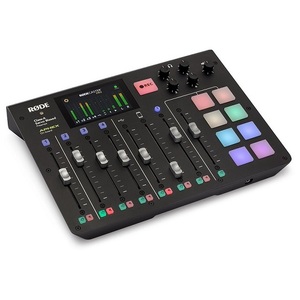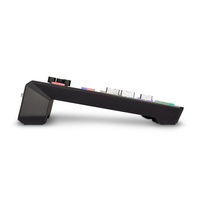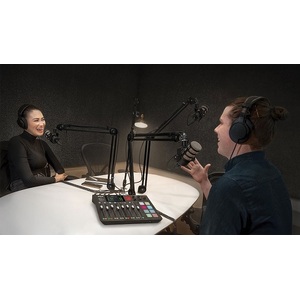 ---
Rode RodeCaster Pro Fully Integrated Podcast Production Studio w/ Aphex Processors
The RØDECaster™ Pro is the world's first fully integrated podcast production studio. Whether you are just starting out, or are a seasoned broadcast professional, the RØDECaster Pro Podcast Production Studio is all you will ever need.
Connect and record with 4 XLR Mic Inputs
The 4 high-quality microphone channels are able to power studio condenser microphones as well as conventional dynamic microphones. You can quickly connect microphones for you and your guests with automatic level setting and one-touch recording to a microSD card. You can literally be recording your first podcast within minutes of taking the RØDECaster Pro out of the box
Sound Effects and Jingles - 8 Programmable SFX Pads
The RØDECaster Pro comes with eight programmable sound effects pads, for instant triggering of sound effects, music, jingles, applause and ads – perfect for giving your podcast that professional quality. You can record audio direct to the programmable pads from any input, or simply "drag and drop" files from your computer using the supplied software. You can even select your favourite colours for the pad illumination.
Phone Calls - Echo-free
Have a remote guest you want to interview? Simply connect your phone to the RØDECaster Pro via Bluetooth™ or with a TRRS cable. The RØDECaster Pro automatically provides "mix-minus" audio to prevent echo being heard by the caller, without the need to purchase dedicated and costly hardware. Telephone interviews with a remote guest never sounded so good!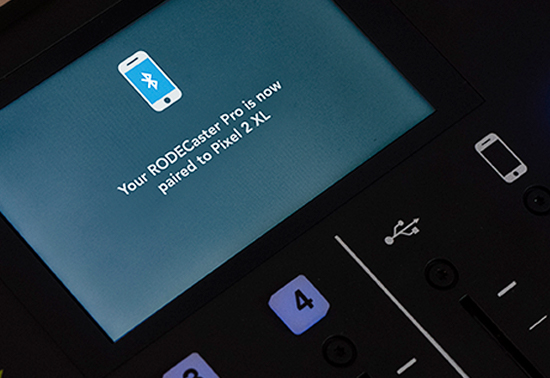 Class A Servo-biased Preamps
The RØDECaster Pro's pristine preamps and outputs feature Class A circuitry, as found in broadcast consoles that cost hundreds of thousands of dollars. The Class A preamps provide a much cleaner gain structure with lower levels of distortion. The result is an incredibly clean, low-noise signal. The Preamps are also servo-biased, keeping distortion levels low. Your signal is broadcast-pure.
APHEX® On board
Your pristine signal can also be enhanced with the legendary patented audio processors, APHEX Aural Exciter™ and APHEX Big Bottom™. These have been incorporated in the audio processing section of the RØDECaster Pro, and your sound will have that rich, warm tone only found in professional studios. The RØDECaster Pro also features multistage dynamics, such as compression, limiting, de-essing and noise-gating.

Intuitive Presets and User Experience
The RØDECaster Pro's touchscreen controls are simple to navigate and use, with clever presets for the type of microphone you are using, the kind of voice you have (deep, medium or high / soft medium or strong) and whether you want to use the inbuilt smart effects to give your voice and those of your guests a tailored, rich delivery. These include:
APHEX® Big Bottom™ and Aural Exciter™ – instant professional tone, depth and warmth.
Compression and noise-gate, to add depth, tone and consistency.
High-pass filter, to eliminate low-end rumble.
De-esser, to lessen sibilance on "s" words.
Ducking, a feature used in professional broadcast stations where the volume of the host-channel (channel one) will automatically override the volume of the other channels. Perfect for keeping rowdy guests on topic!
Auto setup, to set the level of you and your guests.
4 Discrete Headphone Outputs and Speaker Outs
The RØDECaster Pro comes equipped with 4 high-powered headphone outputs using discrete circuitry for clarity and presence, each with its own volume level. A switchable headphone limiter ensures no deafening spikes. Left and right TRS speaker outputs provide quality playback listening, or can feed a PA for an audience if podcasting live.
Recording options - Record to microSD™ card or your favourite DAW
The RØDECaster Pro operates as a standalone unit straight out of the box, recording direct to a microSD™ card. You can be up and running in minutes. The RØDECaster Pro can also connect to your computer via USB, as it is a USB audio interface. This means you can record your podcast to your favourite recording software.
Firmware Update 1.1.0 for the Rodecaster Pro (Feb 2019) - Now with Multi-track recording
Need a run-through setting up the multi-track recording in your favourite DAW? CLICK HERE
Check out the latest Rodecaster Pro Firmware updates in the video below.
Buy your Rodecaster Pro at the right price from your Rode and Podcasting specialists in Brisbane - Musiclab!
The RØDECaster Pro is also able to seamlessly stream a live show!
For more detailed information, please visit the manufacturer's website.
Rode RodeCaster Pro Podcast Production Studio Specifications:
ACOUSTIC & ELECTRICAL SPECIFICATION
Frequency Range:Mic Inputs: 20 Hz – 20 kHz, -3dB at 20 Hz (high-pass filter)
Monitor Outputs: 20 Hz – 20 kHz better than ±0.5dB
Input Impedance:600Ω (Mic Preamplifiers)
Equivalent Noise:–125dBA (A-Weighted, measured as per IEC651)
Maximum Output Level:+3dBu (Monitor Outputs)
Headphone Output Power:Max output power at 1% THD: 32Ω –> 220mW | 300Ω –> 31mW
Dynamic Range:100 dBA (Mic Preamplifiers)
Gain Range:0dB – 55dB (Mic Preamplifiers)
Power Requirements:External DC power supply 12 - 15v DC, 1A
Output Connection:USB-C, 1/4" Balanced TRS STEREO (Monitor Outputs)
Computer Connectivity:USB
Storage:microSD™ card slot, 512MB internal memory for storing sounds for programmable pads
MECHANICAL SPECIFICATION
Dimensions (L x W x H, mm):350 x 275 x 82
Package Dimensions (L x W x H, mm): 412 x 338 x 127
| | |
| --- | --- |
| SKU | ROD-RCP |
| Model # | ROD-RCP |
| Brand | Rode |
Rode RodeCaster Pro Podcast Production Studio Features:
Fully integrated podcast production studio
4 high-quality microphone channels
8 programmable sound effects pads
Automatically provides "mix-minus" audio when recording remote phone conversations
Preamps and outputs feature Class A circuitry
APHEX Aural Exciter™ and APHEX Big Bottom™ audio processors integrated into processing section
Multistage dynamics, such as compression, limiting, de-essing and noise-gating
USB audio interface for recording to computer via USB
Can also record direct to a microSD™ card
Line, USB, and phones/recording outputs, with three Air Feel mic'd cab settings selectable from the Nextone Editor
Support for direct recording and re-amping via USB
---
Free pick-up from store
- $0.00
Free in-store pick-up from Level 2, 34 Campbell Street Bowen Hills
Be The First To Review This Product!
Help other Musiclab users shop smarter by writing reviews for products you have purchased.
---
We Also Recommend
---
You May Also Like
---
Others Also Bought
---
More From This Category