Zoom H8 Handy Recorder 8-Input / 12-Track Portable Recorder
Touchscreen Interface
SKU: ZOOMH8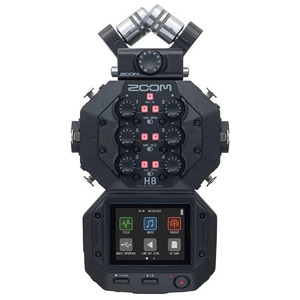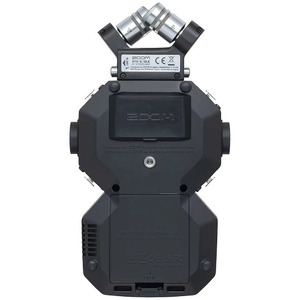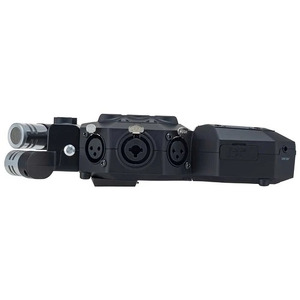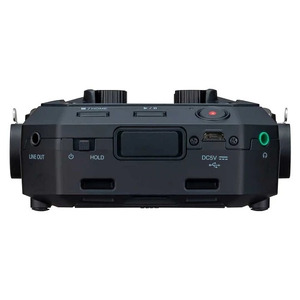 $649.00
RRP $799.00
SAVE $150.00
or 4 payments of $162.25 with

Info
The Zoom H8 Handy Recorder gives you an 8-input, 12-channel portable recorder with interchangeable capsules and a touchscreen interface. Powered by thee separate app-driven interface options, the H8 seamlessly adapts depending on your needs.
---
Zoom H8 Handy Recorder!
The Zoom H8 Handy Recorder gives you an 8-input, 12-channel portable recorder with interchangeable capsules and a touchscreen interface. Powered by thee separate app-driven interface options, the H8 seamlessly adapts depending on your needs. Giving you everything you need to capture audio on location, record music, or produce a podcast. All at the touch of your finger!

Podcast App
First up, the dedicated PODCAST App makes it easier than ever to produce your very own podcast. Featuring dedicated Sound Pads, you can use the touch screen on the H8 to trigger sound FX, jingles, and more. Complete with 13 high-quality sounds as well as the ability to load your own using an SD card. The Zoom H8 allows for up to 4 microphones as well as 2 Sound Pad channels.

Music App
The MUSIC app has been specifically designed to make recording sessions an absolute breeze. Sporting all the most important controls at your fingertips, the H8 gives you instant access to the controls you need. Including audio levels, faders, metering, and more. Thanks to 10 inputs and the capability for 12 audio tracks, its never been easy to capture your large group or band. Mix, overdub, and enhance your recordings using EQ and compression. Then connect to Zoom's Guitar Lab via USB and access a massive array of amps and effects.

Field App
The FIELD app is ideal for location sound, sound design, conferences, and more. Displaying large meters for every track, the H8 Field app gives you the power to make sure your recordings never clip. You can also adjust a number of settings including input type, lo-cut, compression, limiter, noise gate, and other key settings.

Mic Capsule
Not only does the Zoom H8 make life so much easier with the 3 dedicated apps, but it also comes with the Zoom XYH-6 microphone. Consisting of two matched high-quality unidirectional mics for capturing sounds directly in front of your H8 recorder. Thanks to the Zoom interchangeable mic capsule system, you can easily swap capsules depending on the job at hand. (Additional microphone capsules sold separately)

Inputs & Outputs
When it comes to inputs and outputs, the H8 offers 4 XLR inputs with pad switches and gain control. There are also 2 extra XLR/TRS combo jacks with Hi-Z switches so you can capture your line-level signals, microphones, electric guitars, and basses. Then, easily monitor your tracks thanks to the 1/8″ headphone output, or, use the stereo line output to connect directly to your camera.

H8 – Multi-Channel Audio Interface
The H8 is also a powerful USB audio interface. Connect it to your PC, Mac, iPad, or tablet and enjoy up to 12 channels of simultaneous recording.

Recording
Powered by just 4 AA batteries, the H8 is sure to give you more than 15 hours of recording time. Or, connect directly to the mains power for limitless recording (AD-17 Adapter sold separately). Recording BWF-compliant WAV and MP3 files, the H8 can record in all the high-quality formats.

Included Software
Finally, the H8 comes complete with a download license for Cubase LE and Steinberg's WaveLab Cast. Giving you everything you need to put the finishing touches on your project using its comprehensive editing, mixing, and refinement tools at hand.
Buy your Zoom H8 Handy Recorder at the right price, from your Zoom experts in Brisbane - Musiclab!
For more detailed information, please visit the manufacturer's website.
Zoom H8 Handy Recorder Tech Specs:
Number of input channels: 8 (XY mic capsule, 1-4, A, B)
Number of output channels: 1 (combined stereo headphone/line)
MIC IN: ZOOM mic connector
INPUT 1-4: XLR jacks (2: HOT)
INPUT A/B: XLR/TRS combo jacks (XLR: 2 hot, TRS: TIP hot)
USB: USB Micro-B
(audio interface, mass storage and Guitar Lab connection functions)
Note: Use a USB cable that supports data transfer.
Operation using USB bus power is possible.
REMOTE: ZOOM BTA-1 or other dedicated wireless adapter
LINE OUT: 3.5 mm stereo mini
PHONE OUT: 3.5 mm stereo mini
PHANTOM POWER: +24 V/+48 V (independent ON/OFF for INPUTS 1–4, A and B)
RECORDER
Recording media: Cards that support SD/SDHC/SDXC specifications
Formats:
WAV: 44.1/48/96 kHz, 16/24-bit, mono/stereo
MP3: 128, 192, 320 kbps
Maximum simultaneous recording tracks: 12 (MIC IN, backup recording, 1-4, A, B, and LR)
AUDIO INTERFACE
Multitrack mode: 44.1/48/96 kHz, 16/24-bit, 12-in/2-out
Stereo mix mode: 44.1/48 kHz, 24-bit, 2-in/2-out
TUNER
Chromatic/Guitar/Bass/Open A/Open D/Open E/Open G/DADGAD
Built-in speaker: 400 mW 8Ω mono speaker
Display: 2.4″ (320×240) full-color touchscreen LCD
POWER:
4 AA batteries (alkaline, NiMH or lithium)
AC adapter (ZOOM AD-17): DC 5 V/1A
USB bus power
External dimensions :
H8: 116.4 mm (W) × 163.3 mm (D) × 48.6 mm (H)
XYH-6: 78.9 mm (W) × 60.2 mm (D) × 45.2 mm (H)
Weight:
NOTE: When using a USB cable designed for recharging, audio interface, SD card reader and Guitar Lab connection functions cannot be used.
Zoom H8 Handy Recorder Features:
Customized applications for field recording, music and podcasting
3 distinct interfaces for field recording, music and podcasting
Interchangeable input capsules
12-track simultaneous recording
Four mic inputs and two XLR/TRS combo connectors
Gain control knobs and -20dB pads for each input
Supplied XYH-6 X/Y capsule provides secondary input via a stereo ⅛" Mic/Line In mini phone jack
Phantom power for all six XLR mic inputs: +24/+48V
Large color LCD touchscreen display
Records directly to SD, SDHC and SDXC cards up to 512GB
Up to 24-bit /96kHz audio in BWF-compliant WAV or a variety of MP3 formats
Auto-record, Pre-record and Backup-record functions mean that you'll never miss that perfect take
Built-in effects, including low-cut filtering, compression, and limiting
Multichannel and stereo USB audio interface for PC/Mac/iPad
Accepts standard AA alkaline or NiMH rechargeable batteries
Over 15 hours of operation with 4 AA alkaline batteries
---
Free pick-up from store Brisbane only
- $0.00
Free in-store pick-up from Level 2, 34 Campbell Street Bowen Hills
Be The First To Review This Product!
Help other Musiclab users shop smarter by writing reviews for products you have purchased.