Steinberg UR24C 2x4 USB 3.0 Audio Interface
Perfect for Studio and Live Use
SKU: UR24C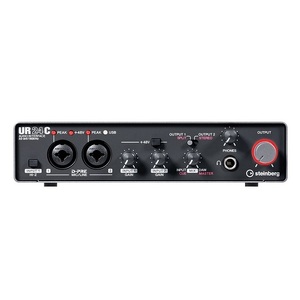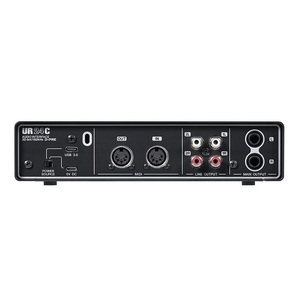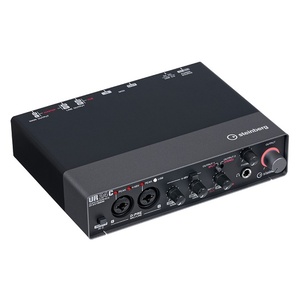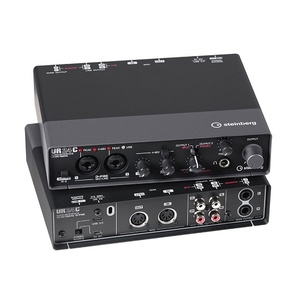 ---
Steinberg Performance in studio or live!
The Steinberg UR24C is a super flexible audio interface, combining superior sound quality, compact size and unique switchable monitoring modes, which makes it ideal for recording music with a DAW or performing a DJ or live music set. You can use it with a computer or an iOS device and enjoy unprecedented creative freedom. The UR24C sports two inputs, four outputs, and Midi connectivity onboard.
Record your music anywhere
The UR24C features high-quality combo inputs with D-PRE preamps and onboard phantom power, 32-bit/192 kHz recording quality, MIDI inputs and outputs, latency-free monitoring with DSP effects and fast, reliable connectivity to computers and iOS devices via SuperSpeed USB 3.1 Gen 1 with USB-C mean you are always working in a world of sparkling, versatile sound. Don't forget the hardware-based, latency-free monitoring with DSP powered effects that give you a truly professional recording experience.
The compact, tough and lightweight construction makes it suitable for taking anywhere with you, turning any space into a recording studio. You can even plug in two sets of studio monitors, to check your mixes even more thoroughly. And thanks to the included Cubase AI recording software and Cubasis LE iOS app, you can start recording immediately with Mac, PC, or iOS devices.
Perform great DJ sets
The UR24C's dual monitor modes mean it is perfect for playing great DJ sets as well as recording with. In DJ mode you can choose between Split and Stereo monitoring, either outputting the mono master sound to the right side of the headphones and the mono cue sound to the left, or having both in stereo, using the Mix control to balance or mix as appropriate. Of course, the UR24C's high-quality components, rugged portability and seamless connection with computers or iOS devices via SuperSpeed USB 3.1 Gen 1 with USB-C mean you can play your sets anywhere and every beat is delivered in stunning detail.
Your reliable live performance partner
The UR24C is a great onstage partner. As well as its rugged, road-ready construction and high-quality, reliable performance, you can use its multiple outputs for providing click and guide tracks to band members while sending the stereo backing track to the FOH mixing desk. Support for PC, Mac and iOS allows for using a wide range of DAWs, like Cubase, Cubasis or any other multitrack playback application, while the MIDI connectors allow you to incorporate a wide range of hardware controllers for triggering loops and other sounds. It all means you can deliver a full performance, no matter whether you are a solo artist or a band member, making sure that all backing tracks are played reliably.
Buy your Steinberg UR24C USB Audio Interface at the right price from your Steinberg specialists in Brisbane - Musiclab!
For more detailed information, please visit the manufacturer's website.
Steinberg UR24C USB Audio Interface Tech Specs:
Connection Type: USB Type-C
Design: Desktop (1/2 19″, 1HU)
Casing: Full-metal casing
Power supply: USB 3.0 bus-powered, USB Type-C bus-powered, External USB 5 V AC adaptor (not included)
AD/DA: 32 bit
Maximum sample rate: 192 kHz
Dynamic range input: 102 [dB]
Total number of Inputs: 2
Total number of individual outputs: 4
Total number of Outputs: 6
Microphone preamp: D-PRE
Microphone inputs: 2
Inputs with line-level: 2
Inputs with HI-Z: 1
Analog inputs TRS: 0
Analog input Combo: 2
Analog output TRS: 2
Phantom power: 2
Headphone: With dedicated volume control
Headphones outputs: 1
Digital In ADAT: 0
Digital Out ADAT: 0
Digital In S/PDIF Optical: 0
Digital In AES/EBU RS422: 0
Digital Out S/PDIF Optical: 0
Digital Out AES/EBU RS422: 0
Monitoring: Latency free monitoring with FX
Onboard DSP: SSP 3
True Integrated Monitoring with FX in Cubase
REV-X Reverb
Sweet Spot Morphing Channel Strip
Weight: 1100 g
Width: 198 mm
Height: 47 mm
Depth: 159 mm

Steinberg UR24C USB Audio Interface Features:
2 x 4 USB 3.0 Audio Interface with 2 x D-PRE and 32-bit/192 kHz support
USB 3.0 for fast, reliable and seamless connectivity to Mac, PC, and iOS devices
USB Type-C bus-powered operation (depending on host spec)
Switchable monitor modes (DAW/DJ) change the function of the headphones output
32-bit Integer / 192kHz support
Class-A D-PRE mic preamps
Built-in DSP for zero-latency monitoring with effects for every DAW
Cross-platform support (Mac/Win/iOS)
Be The First To Review This Product!
Help other Musiclab users shop smarter by writing reviews for products you have purchased.