Steinberg Cubase Pro 10.5 Crossgrade Music Production Software
SKU: ST-CP105CG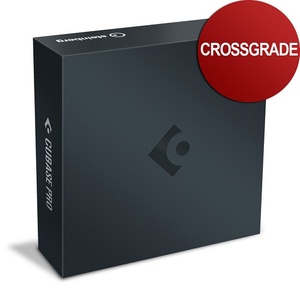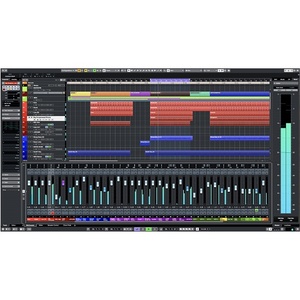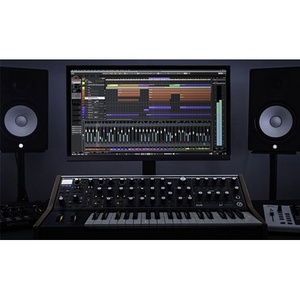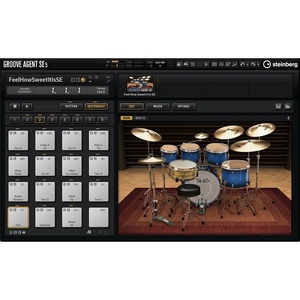 ---
Steinberg Cubase Pro 10.5 Crossgrade
Steinberg Cubase Pro 10.5 Crossgrade is the perfect way to access one of the most powerful music creation software packages in the world. Designed especially for users who already have a registered copy of Ableton Live Standard / Suite, Logic Pro, Cakewalk Sonar Platinum / Professional, Digital Performer, FL Studio Signature / Producer, Pro Tools / Pro Tools HD, Reason (from Version 6), Studio One Professional. With its unrivaled range of flexible tools, you can create any kind of music quickly and intuitively. Steinberg Cubase Pro 10 crossgrade comes packed with a wide range of virtual instruments, effects and thousands of sounds. Whether you're a professional composer or a music production beginner, Cubase provides you with everything you need for turning your ideas into music.
Steinberg's Cubase Pro 10.5 gives you the perfect balance between greater functionality and affordability. Following up on the anticipated landmark release of Cubase 10 with significant improvements. Offering a bigger FX suite, more sound samples, instruments, and greater compatibility; Cubase Pro 10.5 truly is a force to be reckoned with. Including a selection of editing and sequencing tools, as well as Steinberg's 64-bit floating-point audio engine, resulting in unmatched processing power.
Overall, Cubase Pro 10.5 will help you take your music production and recordings to the next level. Featuring an easy, intuitive workflow and powerful engine; and as a result, Cubase Pro 10.5 is perfect DAW for beginners and experienced users alike.
What's New in Cubase?
Cubase 10.5 is packed with powerful new features, making it the most incredible version of Cubase yet.
Spectral Comparison EQ
Clean up your frequencies and allow room for each instrument in the mix with Spectral Comparison. This new mode added in Cubase 10.5's Channel EQ will help you identify where the action is needed. Simply route a second signal from any track into the EQ, then compare the spectral curves within the EQ display. Allowing you to toggle between the EQ Controls and comparison channel and adjust the mix accordingly. Without losing focus on what you're doing!
Video Export Render
Cubase 10.5 lets your render videos as MP4 files complete with 16-bit stereo audio. Eliminating the hassle of having to use a separate piece of software to export your video projects. So you can mix, master, and export all in one place.
MultiTap Delay
Included in Cubase 10.5 is the all-new MultiTap Delay, made for musicians. Giving you all the inspirational and creative options that you need. Create and edit up to eight taps per delay loop, and add effects with just a simple click. Including a number of different character presets that deliver the sound of clean digital delays and classic vintage echo units.
Padshop 2
With Cubase 10.5 you'll also find Steinbergs highly acclaimed Padshop 2 granular synthesizer. Featuring a new spectral oscillator that opens the door to unheard soundscapes. Therefore, turning your samples into fascinating sonic sculptures. While the new arpeggiator section allows you to add motion to your sounds, and the effects section adds the finishing shine. So be inspired by the 100 new presets in Cubase 10.5 or start creating your own unique sounds straight away!
Colorized Mixer Channels
Having a clear overview of your project is vital for a fast and easy workflow. Included with Cubase 10.5 is the new option to colourise complete channels in your console with track colours. Allowing you to focus on the mix by easily finding the channels and tracks you're looking for. Even if you're sitting far away from your computer screen, there's no getting lost in your mix!
Retrospective MIDI Record
With Retrospective MIDI Record, Cubase 10.5 constantly tracks your MIDI inputs, even when you're not recording. So when you're just playing around and come up with a melody that excites you. Cubase 10.5 will make sure you can recall it in seconds. So you'll never lose the perfect take.
Do you always deliver your best performances when not recording? The completely revised MIDI Retrospective Recording feature can help you to bring your A-game to every project. Cubase tracks your MIDI input — even when you are not recording — and brings back your chords and melodies as a stacked cycle or a continuous performance with just a click. Even better, your performance is captured on multiple tracks. So no more worries — Cubase has your back.
Import Tracks From Projects
Exchanging data between projects or creating new project templates is now vastly easier with the new track import functionality of Cubase Pro 10.5. Import multiple track types from other projects (like Group, FX or Folder Tracks) and select the track attributes you want to import. Setting up the same drum mix for multiple projects? Cubase has you covered. With a simple click, the AutoMap function even matches the imported tracks to existing tracks with the same name.
Buy your Steinberg Cubase 10.5 Pro Crossgrade from your Steinberg experts in Brisbane - Musiclab!
For more detailed information on Steinberg's Cubase 10 Pro software, please visit Steinberg's website.
Steinberg Cubase Pro 10.5 Crossgrade Specs:
Software Type: DAW
Version: Crossgrade (proof of eligibility required)
Platform: Mac, PC
Bit Depth: 64-bit
Format: VST
USB eLicenser Required: Yes
Hardware Requirements:
Mac: Intel Core i5 or higher, 8GB RAM or more recommended, 30GB drive space
PC: Intel Core i5 / AMD Multi-core or higher, 8GB RAM or more recommended, 30GB drive space
OS Requirements
Mac: MacOS 10.12 or later
PC: Windows 7 SP1 or later
| | |
| --- | --- |
| SKU | ST-CP105CG |
| Model # | ST-CP105CG |
| Brand | Steinberg |
Steinberg Cubase Pro 10.5 Crossgrade Features:
Perfect for professional audio engineers, songwriters, composers, and conductors

Next-generation, 64-bit floating point audio engine

32-bit integer and 64-bit float audio support, up to 192kHz

5.1 surround for film and game scores

VariAudio 3 gives you complete command over every aspect of your audio

Audio Alignment creates spot-on doubled and stacked vocals

Groove Agent SE 5 builds beats with lifelike drum kits and inspiring drum machines

MixConsole Snapshots make creating alternate mixes effortless

MIDI Polyphonic Expression (MPE) Support

Steinberg Virtual Reality for producing top-notch VR projects

Intelligent compositional tools like Chord Track, Chord Pads, and Chord Assistant

Comping makes creating perfect tracks a breeze

Audio Warp Quantize makes quantizing audio as easy as quantizing MIDI

Channel Strip modules are integrated into every mixer channel

MixConsole captures the essence of a high-end analog console

Sampler Track + Caleidoscope for building loops and phrases

Control Room for integrating cue mixes and monitoring setups

Complete suite of over 90 high-end audio and MIDI VST effect processors

Comprehensive set of 8 outstanding instruments with over 3,000 sounds

5GB of high-quality sounds and loops
Be The First To Review This Product!
Help other Musiclab users shop smarter by writing reviews for products you have purchased.