RODE PodMic Trio Podcast Bundle
Please call us to check stock levels. (07) 3270-1111
SKU: PODCASTBUNDLE11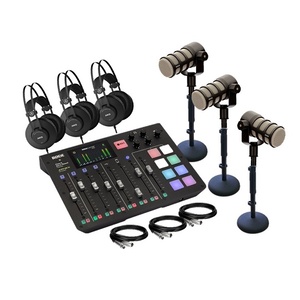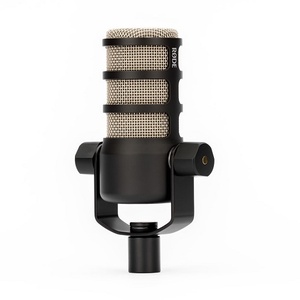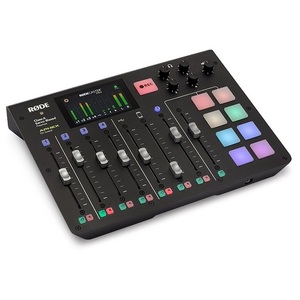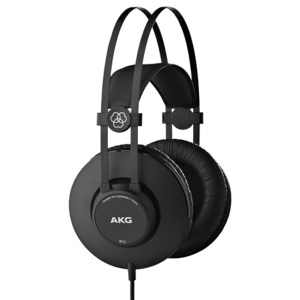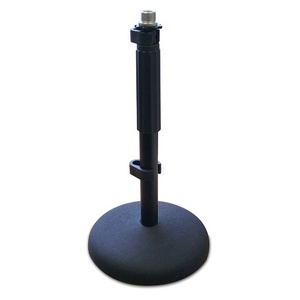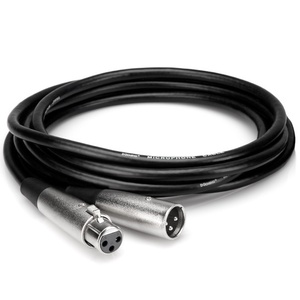 ---
Some items may be BACKORDERED - Please call us to check stock availability. (07) 3270-1111
Your Podmic Podcasting Trio setup bundle!
RØDE PodMic Trio Podcast Bundle is the perfect way to bring professional sound quality to your podcast. This Podcast Bundle is the ideal package for three people, and contains everything you will need to create professional sounding content for your podcast.
The RØDE PodMic Duo Podcast Bundle includes:
1 x Rode Rodecaster Pro
3 x Rode Podmic
3 x AKG K52 Closed Back Studio Headphones
3 x Rode DS1 Tabletop Stand
3 x Hosa MCL 105 XLR Microphone Cable (5ft)

RØDECaster Pro Fully Integrated Podcast Production Studio w/ Aphex Processors
The RØDECaster™ Pro is the world's first fully integrated podcast production studio, and forms the central hub of your Podcasting Bundle setup. The RØDECaster Pro is an all-in one solution for your Podcast recording sessions, including inputs for 4 condenser or dynamic microphones, 8 programmable sounds effects pads for instant triggering of sounds effects, intros and bed. The big bonus with the RØDECaster Pro is that you can even connect your phone directly, or via Bluetooth for high-quality phone call recordings...Skype, Zoom, Phone you name it...your remote guest interviews never sounded so good!
RØDE PodMic Dynamic Broadcast-Grade Podcasting Microphone
This Podcasting Kit includes the RODE PodMic broadcast-quality dynamic microphone, tailor-made and optimised for use with the RØDECaster™ Pro. It has a rich, balanced sound, with an internal pop filter to minimise plosives and internal shockmounting to reduce vibration.
The PodMic is a broadcast-quality dynamic microphone optimised for podcasting. It has a rich, balanced sound, with an internal pop filter to minimise plosives and internal shockmounting to reduce vibration although we usually recommend a WS2 foam windscreen for optimal results.
AKG K52 Closed Back Studio Headphones
The AKG K52 headphones are closed-back professional-grade headphones that reveal even the subtlest nuances, so you can be confident you're hearing every detail. AKG K52's are an excellent and durable headphone, exactly the kind of reliability you need.
RØDE DS1 Weighted Tabletop Microphone Stand
The RØDE DS1 is a height adjustable table top desk stand to suit your RØDE PodMic
Hosa MCL105 XLR Microphone Cable (5ft)
Hosa Microphone Cables have a great reputation in the industry because they're affordable, high-quality and durable. 1.5 metres (5 feet) will give you enough flexibility to move around too.
Buy your RODE Rodecaster Podcast Bundle at the right price from your RODE specialists in Brisbane - Musiclab.
RØDE PodMic Trio Podcast Bundle Features:
RØDECaster Pro
Fully integrated podcast production studio
4 high-quality microphone channels
8 programmable sound effects pads
Automatically provides "mix-minus" audio when recording remote phone conversations
Preamps and outputs feature Class A circuitry
APHEX Aural Exciter™ and APHEX Big Bottom™ audio processors integrated into processing section
Multistage dynamics, such as compression, limiting, de-essing and noise-gating
USB audio interface for recording to computer via USB
Can also record direct to a microSD™ card
Line, USB, and phones/recording outputs, with three Air Feel mic'd cab settings selectable from the Nextone Editor
Support for direct recording and re-amping via USB
Rode PodMic
Broadcast-quality dynamic capsule
Optimised for speech applications
Internal pop filter to minimise plosives
Robust, all metal construction
Designed for use with RØDECaster™ Pro Podcast Production Studio
AKG K52 Closed Back Studio Headphones
Precisely balanced response provides reference-monitor accuracy
Large 40mm drivers for wide 18Hz - 20kHz frequency response
Self-adjusting headband ensures perfect fit
Over-ear design and lightweight construction provides exceptional comfort
Closed-back design maximizes isolation
Professional build quality
2.5m (8.2') cable
3.5mm (1/8") plug with 6.3mm (1/4") screw-on adapter
---
Free pick-up from store Brisbane only
- $0.00
Free in-store pick-up from Level 2, 34 Campbell Street Bowen Hills
Be The First To Review This Product!
Help other Musiclab users shop smarter by writing reviews for products you have purchased.