Bitwig Studio 4 Music Production & Performance Software (Download + eLicense)
SKU: BITWIG4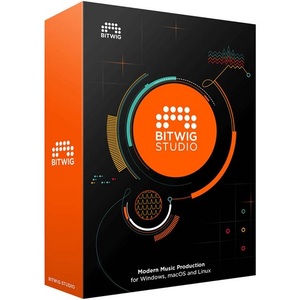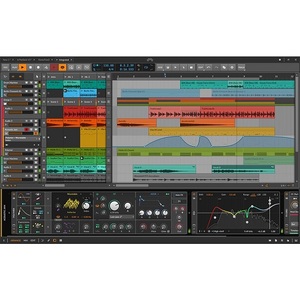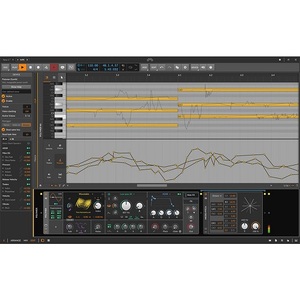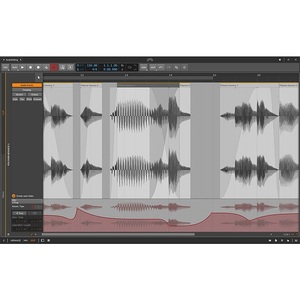 ---
Bitwig Studio 4 - Advanced Music Production & Performance Software (Download + eLicense)
Bitwig Studio is the single solution for realizing any musical idea across every stage of production.
Linear and non-linear workflows for sound design, recording, live performance, and beyond
A complete package with 90+ instruments, effects, and other creative tools
Modular structure and flexibility in all aspects of the software
Enjoy over 10 GB (and counting) of world-class sound content from Bitwig and selected partners
Modulation Heaven
The modulation system in Bitwig Studio allows you to use Macro controls, Note Expressions, LFOs, and Envelopes to modulate any device, VST plug-in, or hardware parameter. With 30+ modulators (and counting) the potential for creative expression is endless.
Hardware Integration
Hardware integration is a large part of what makes Bitwig Studio unique. MIDI handling, note timing, and latency compensation are aspects of this. Other prominent features include MIDI Clock Sync and Ableton LINK. But where Bitwig Studio really stands out is our collection of hardware integration devices.
Enter The Grid
The Grid is a sound designer's dream. It can be a synth, an audio effect, or most things you can imagine. It's a modular sound design environment, open for you to build your own creations from scratch.
Sampler, Resampled
Meet Bitwig Studio's Sampler, featuring several playback modes, dynamic note-based modulations, and a powerful multisample editor.
Buy Bitwig Studio 4 today at the best price from your DAW experts in Brisbane, Australia - Musiclab!
For more information on Bitwig Studio 4, please visit the manufacturer's website.
Bitwig Studio 4 Specs | System Requirements:
12 GB free disk space required (for full content installation)

Minimum 4 GB RAM (8 GB recommended)

64-bit OS: PC Windows 7 or later

Mac macOS 10.13 or later (both Intel and Apple Silicon/M1 powered macs are supported)

Linux Ubuntu 17.04 or later

For latest system requirements and OS compatibility, please see the manufacturer's website: https://bitwig.com
Bitwig Studio 4 Features:
Streamlined Workflows
Intuitive sequencing for the studio world and beyond: Use the nonlinear Clip Launcher and the Arranger together.

Hybrid Tracks can contain notes, audio, or both.

Use tabs to open multiple projects at once and drag-and-drop between them.

Multi-display support for up to three displays.
Modern Foundations
A truly cross-platform DAW (Windows, macOS (Intel and Apple Silicon/M1), Linux).

Native VST plug-in bridge (for 32-/64-bit support), and VST crash protection so audio never stops. Also includes delay compensation, flexible multi-out, and sidechain capabilities.

Eight diverse time-stretching algorithms.

Hardware- and modular-friendly: Send and receive control voltage signals (CV/Gate).

Multi-touch support for Windows and Linux, with a dedicated Tablet display profile.

Flexible syncing options: MIDI clock, MIDI time code, Analog clock, Ableton LINK.

Support of numerous MIDI controllers out of the box and native MPE support for next-generation controllers.
Modular and Expressive
Bitwig Studio's unique Modulation System features 30+ Modulators (LFOs, envelopes, and other creative tools). These can freely modulate Bitwig devices, VST plug-ins, and hardware, allowing precise control of each parameter.

Device Nesting allows devices and plug-ins to be embedded within other devices. This makes complex structures easy to navigate and presets much richer.

With Operators you can sequence notes and audio events with operations such as Chance, Repeats, Occurrence, or Recurrence.

Advanced Editing Options
Layered editing of multiple clips, across multiple tracks.

Each audio clip can be cut into individual audio events for powerful editing and arranging.

Comping allows you to combine the best parts of your audio takes.

Bounce and Bounce in Place for Clips or time selection. 130+ Devices Included
Bitwig Studio devices are virtual instruments, audio effects, and other tools for crafting signal into sound. The extensive array of included devices can cover all your sound design needs, from the subtle to the extreme. Bitwig Studio includes instruments and effects such as:
Polysynth, our subtractive synthesizer: Two flexible oscillators plus drive, waveshaping, feed-back, and a lush filter equals so much more.

Drum Machine: Drop in samples or electronic drum synths. Each note is now its own audio chain.

Sampler: A versatile instrument for playing and manipulating audio with several playback modes, including granular or wavetable options and much more.

Amp: A flexible and powerful amp simulator.

EQ+ is a feature-packed graphical equalizer with up to 8 bands, excellent visualization, mouse gestures, and new algorithms.

Phase-4: A four-oscillator phase modulation and phase distortion synthesizer for classic, modern, and future sounds.

The Grid is an open modular sound design environment that powers a family of devices. It includes a vast library of modules and a supersonic workflow.

Polymer, a fun and quick synth: Pick an oscillator, a filter, and an envelope generator. Choose your synthesis method: Subtractive, FM/PM, hard sync,PWM, phase distortion, and Wavetable? Polymer covers them all.
Sound Content
A full starter kit right out of the box: Over 2,000 sounds and factory presets, including: drum machines, acoustic drums, multi-sampled instruments, instrument loops, sound effects, various synth presets, and curated Artist Collections.
Future-Proof
All software updates in the following 12 months are FREE.
---
Australia Post 500g
- $0.00
Delivery Australia Wide
---
Couriers Please - Brisbane Metro
- $0.00
---
TNT - Road Express
- $0.00
Delivery Australia Wide
---
Free pick-up from store Brisbane only
- $0.00
Free in-store pick-up from Level 2, 34 Campbell Street Bowen Hills
Be The First To Review This Product!
Help other Musiclab users shop smarter by writing reviews for products you have purchased.